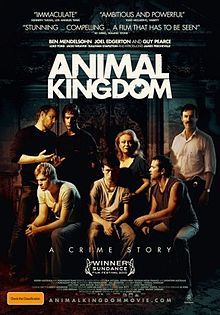 Showtime is looking to add to it's roster of drama's by turning the Sundance selected, Grand Jury Prize winning drama Animal Kingdom into an hour-long TV series. This will join the networks schedules alongside Dexter and Shameless as Showtime's more dramatic and serious pieces of work.
Shameless writer John Wells will executive produce the series which will follow a family of criminals as they struggle with the police and deal with their ordinary lives stuck in the middle of their criminal activities. Jonathan Lisco, who wrote and co-executive produced Southland will write the series.
John Wells Prods and Warner Bros TV are producing the show, with Lisco, Wells and Andrew Stearn executive producing alongside the feature films writer and director David Michod and producer Liz Watts.
This is the second time Well's has adapted a foreign TV show into an American drama with Showtime, having done so with the British TV series Shameless.
The 2010 movie of the same name was inspired by Melbourne's infamous Pettingill crime family, which was headed by Kath Pettingil. The films success saw Jacki Weaver, who played Pettingil earn a best supporting actress Oscar nomination.
Animal Kingdom also starred Ben Mendelsohn, Joel Edgerton, Guy Pearce, Luke Ford, Sullivan Stapleton and James Frechville and was loosley based on the Walsh Street police shootings that occurred in Melbourne in 1988. Director David Michod was interested in the Melbourne underworld and wrote a script which was picked up by Screen Australia and Film Victoria and the film was made on a budget of $5 million, in Austrailian money, before garnering almost universal critical acclaim around the world. This included 18 nominations for the 2010 Australian Film Institute Awards, a new record, before on 11th Decemeber 2010 Animal Kingdom was awarded a record 10 awards.
Will Animal Kingdom live up to its reputation? Or will a TV version of the film only dillut down the material?