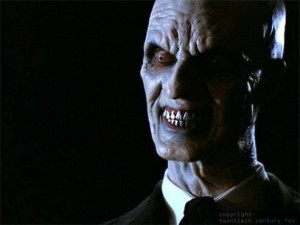 Why should the kids get to have all the fun?  Instead of sitting in the dark eating candy while pretending not to be home, turn on your T.V., and watch one of these spooktacular shows!  I've included some funny episodes to help you recover from the eerie ones and be able to sleep at night.
1.     Buffy the Vampire Slayer-"Hush"-Season 4 Episode 10
Creepy demons known as "The Gentlemen" steal the voices of everyone in Sunnydale to keep them from screaming when their hearts are cut out.  The episode is almost entirely silent (approximately 17 minutes of dialogue out of 44) upping the creep factor exponentially!
2.     That 70's Show-"Halloween"-Season 2 Episode 5
This is the episode where Fez learns that trick or treating means free candy! Once they take Fez house to house, the gang breaks into their old grammar school to tell ghost stories in an attempt to recapture the thrills and chills of Halloweens past, but they soon discover what lurks within their permanent records is scarier than any story they can tell.
3.     Haunted-Pilot
After killing a known pedophile, Detective Frank Taylor discovers strange abilities to see the dead.  On Frank's search for a missing boy he finds the man he killed haunting him from the grave. 
(Unfortunately this show didn't get picked up, but it had me on edge during every single one of the seven episodes aired.  If you can find it, it's worth the watch.)
4.  Happy Endings-"Spooky Endings"-Season 2 Episode 5
Brad and Jane spend a terrifying Halloween housesitting in the suburbs while the rest of the gang head to a party only to find their costumes don't have the effect they hoped for.  The events that unfold around Alex as Marilyn Monroe are sidesplitting!
5.     Community-"Epidemiology"-Season 2 Episode 6
The study group is forced to fend for themselves after Greendale students unknowingly ingest tainted food at a Halloween party, causing them to exhibit flu-like symptoms and turn into zombies.  In their quest to find a cure they battle the horrifying sounds of the Dean's shopping list, crazed cats, and each other!