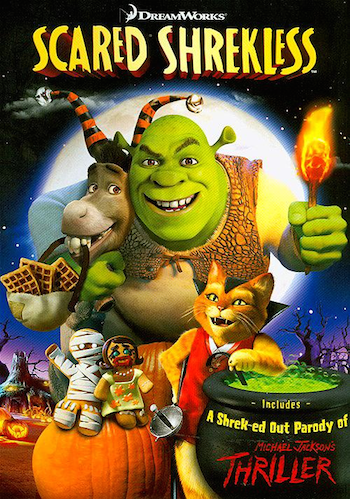 There is a slight chill in the air, darkness descends earlier with each passing day, and lawns are littered with flashing lights, makeshift graves, and skeletons galore. It's that time of year again when we celebrate all things spooky, when kids dress up as their favourite heroes and villains and run door to door for free candy, spending the rest of the week on an unbelievable sugar high.  It's Halloween!  What better way to get in the spirit of this ghostly holiday than to indulge in some scary stories?  Here are my top five specials for the little monsters in your life. 
1.     Garfield's Halloween Adventure
Garfield and his pal Odie go trick or treating, but are not satisfied with their usual loot so they canoe across the river to an old house where a mysterious man awaits their arrival by the fire.  Instead of candy he doles out a creepy tale of Halloweens past and the pirates that haunt the house.
2.     Scared Shrekless
Naturally Halloween is Shrek's favourite holiday so he and his friends have a contest to see who can tell the scariest story.  A ghostly mish mash of new and classic tales, including a new take on an old horror hit, even parents will get a kick out of.
3.     The Scooby-Doo Show: The Headless Horseman of Halloween
The Scooby gang can always be counted on for a good mystery, but this one is especially fun for Halloween.  The gang is in Sleepy Hollow for a costume party, but when the real headless horseman turns up they are on the case!
4.     Halloween is Grinch Night
The whos in Whoville are enjoying a peaceful sunset when the sour sweet wind returns, bringing about a storm and signaling the dreaded return of the much- feared Grinch!
5.     The Simpsons Treehouse of Horror XIV
This one is for a slightly older little monster that features Homer as the Grim Reaper, Dr.Fink creating a Frankenstein version of his long dead dad, and Bart and Millhouse abusing the powers that come with a time-stopping watch.