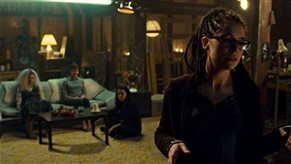 SPACE have announced new cast members for the third upcoming season of 'Orphan Black'. Justin Chatwin and James Frain will join the ten-episode third season of the original drama, which is a co-production with BBC America. Kyra Harper, Kesenia Solo and Earl Pastko will all be joining the cast as well.
James Frain will play the secretive Ferdinand, a well-educated "cleaner" who is a powerful player in a multi-national political faction that has some questionable ethics.
Justin Chatwin will appear in a guest starring role as Jason Kellerman, a savvy drug-dealer who is disguised as a charismatic businessman.
Ksenia Solo will play Solo, a compassionate holistic healer and a new friend for Cosima. (Tatiana Maslany)
Kyra Harper will play Dr. Coady, a ruthless advisor to the military, with an agenda.
Whilst Earl Pastko will play Bulldogm a imposing bodyguard to Ferdinand, who communicates using only looks.
Tataiana Maslany will return in the starring role, with season 3 revealing that the clone sisterhood aren't alone, with the 'Castor Clones' causing further issues.