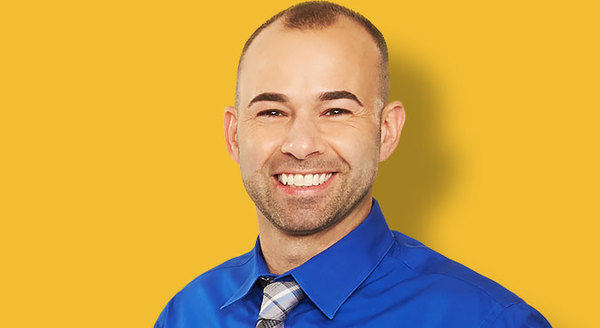 James Murray reveals all about starring on Impractical Jokers which can be seen on Thursday evenings at 10pm on truTV . The new series can be seen in the United Kingdom on Comedy Central on Monday
evenings at 10pm from August 17th.
How long have you all been friends for?
We have been friends since freshman year of high school, 26 years.
What was your favourite task on the show?
My favourite was when we worked as dentists and we were wearing dentist outfits and real patients came in thinking we were actual dentist assistants and we told Sal to recline the patient as high as you could go on the chair and as far back as possible. One guy was almost at a 90 degree angle hanging upside down for his life. It was one of the only times on the show where my knees buckled, tears running down my face and I couldn't control my laughter.
Who got the worst punishment?
I think it was me, I got thrown off an airplane at 13,000 ft. and I am terrified of heights. They surprised me, I didn't know that I had to do it that day and they tricked me into the parachute and then I locked myself in the bathroom for 30 minutes. I sent goodbye texts to my mom and girlfriend. I was so scared. For punishments we are not allowed to say no.
Which has been the most embarrassing/worst prank they have done?
I would go back to season 1. I think the most terrifying thing we have ever done was seemingly the simplest where we had to go up to people and eat food off their plate. It was a buffet and people were shovelling endless amounts of food onto their plates and we had to go up to them and take food off their plate and put it on ours. People went crazy because I guess it like such ownership. You don't screw around with people's ownership of something. It was the closest I think in 5 years of us getting the 'you know what' kicked out of us.
Why do you think everyone gangs up on you? Or had you not noticed?
I feel like I get the worst of everything. The dynamic of our friendship is that I tend to be the butt of the joke. That being said, Sal is probably the easiest to punish because he is a very particular guy. He has strong opinions about things; he has a list of 7 things that he hates in life; sweat, common cold, bugs, strong wind, filth, traffic and cats. So all we have to do is pick one or two of his and put it into a punishment.
Can you all tell us something that people may not know about you?
Common cold on vacation trumps everything. I am a normal human being. No I don't have a list! Something people don't know about me? Well I have been naked on the show like 7 times now, so there is literally nothing left for me to bear. They put me in front of a high school class and attached me to a lie detector and asked me the most embarrassing questions from my personal life. So I don't know if there is anything secrets anymore. I am ambidextrous, how about that?
What does it take to be an Impractical Joker? We don't think we could do it!
A lot of people say that we have balls of steel. To do the show you need to have balls of copper because we are not very good at it. We were raised as gentlemen and we stand by it.