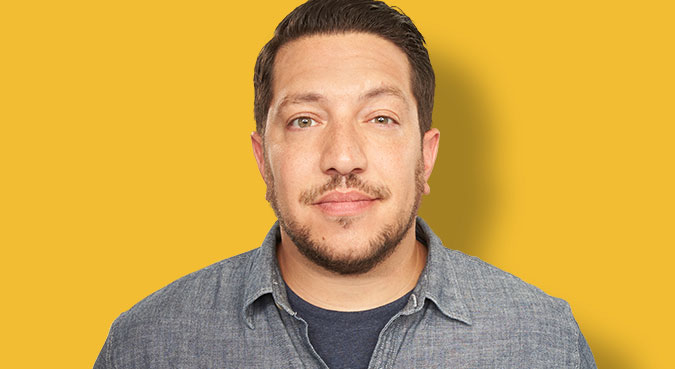 Sal Vulcano reveals all about starring on Impractical Jokers which can be seen on Thursday evenings at 10pm on truTV . The new series can be seen in the United Kingdom on Comedy Central on Monday
evenings at 10pm from August 17th.
Were you pranking each other long before the show?
Yeah, we did. We started messing with each other in high school, you know simple things, but actually some of the things we did in high school have made it onto the show. We do this game called nosing, where we have to put your nose on someone without them knowing it and see how many times you could do it. That started in high school. Joe used to do that to the teachers.
Which has been the most embarrassing/worst prank they have done?
That question was a lot easier to answer earlier on, so we are approaching 100 episodes by the end of this season and now to think back on everything we have done it's so overwhelming, we have done so much it's so hard to pick one.
What has been the worst reaction from the public?
Usually the public is a by product of what we are doing. We are kind of messing with each other and throwing each other under the bus. We are not outwardly mean on the show; it's a choice you make too. We don't find ourselves in that type of position that often where someone is crazy or mad, but every once and a while you are going to run into that person no matter what, it's just a law of averages. We have had people, especially me I have had one woman slap me and a man choke me. I cut a man and his family in line waiting to get tickets to a play for a few hours and I cut them in line to get ahead of them and you know when you do that to someone that's immediate grounds for a war. He called over security and when security came over I told security I was with them and that I was one of their family members. That sent him over the edge and he just started choking me.
Can you all tell us something that people may not know about you?
The things in order are; traffic, sweat, strong wind, common cold, bugs, cats, pointy objects and general filth.
What does it take to be an Impractical Joker? We don't think we could do it!
I think you have to be willing to put yourself out there and have fun at the risk of not looking good. We are just having fun with our friends. A lot of people ask us if they can be on the show, but the show really extends from our friendship. We don't think of it as a prank show, but more of a comedy show of 4 friends. I think you just really have to have a willingness to put yourself out there and be embarrassed and have terrible things happen to you for others amusement.