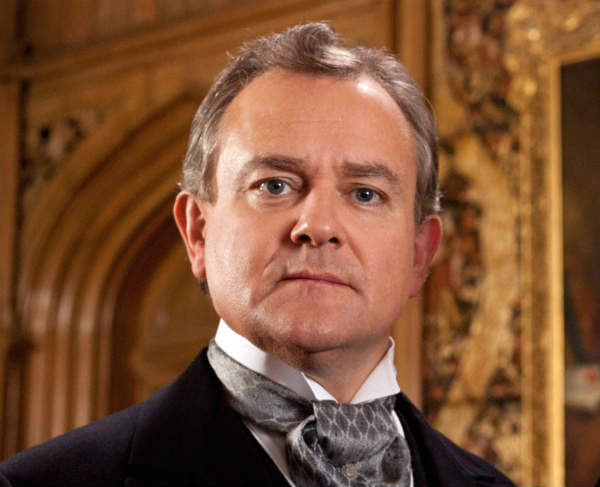 I was lucky enough to attend an official question and answer session with some of the cast members ahead of the final series of Downton Abbey. Hugh Bonneville was one of those who took part. Here are Hugh's thoughts about appearing on the series.
Were you aware of the enormity of the role that you were playing on the series?

Well I think actually, as we all know, the house is actually run by the women. People like Robert are allowed to think that they run the place but really it's Cora and Mary and everybody else who are pulling the strings. I think the most central character of the show is actually the house and that's what's been the strength of the piece throughout. That's the real cornerstone of the piece and we've been very lucky to be there albeit freezing cold in February but then lovely barbecues in the summer.

Were you conscious of the fact that with the show's ever-changing world, it had been offering the viewers at home an inside into a world dealing with important historical moments?

No, you read the lines in a script and just say them. It really is, I mean if it's not there then you just can't say it. Luckily all that historical tapestry in the back ground is there, not just in Robert's story but in everyone's. It's delicious when historical characters either pop in or are referred to. We have minister of the government coming in to this series who audiences will recognise when he does appear. He has a particular part to play in the future of the country, so it is lovely when things like that happen. Of course this is a complete romantic fictional world but it's lovely when little dots of reality creep in. If it sends someone to look at a history book, fantastic.

What are you going to miss most about the show?

I think the ensemble, by that I don't just mean the actors, I mean the crew as well. We're the visible tip of the iceberg and, of course, as anyone who works in television knows, there is a vast army beneath the surface who aren't seen. They work tirelessly, they work far harder than any of us actors but we're the ones who are here talking to you but we are here on behalf of literally hundreds of people who work on the show. Luckily there is a lot of very high standards out there in the British film and TV industry so, hopefully, we will all bump into it again. But I haven't worked on a project that has had every department working to such a high level of its game, consistently for over six years. So that's what I'll miss, the absolute attention to detail, cause we sometimes get it wrong, TV ariels! They are a remarkable bunch of people and all credit to them, I will miss them.

What will you be doing next?

I'm rapidly trying to grow a beard because I'm reprising a cameo I did in a mad show for ABC called Galavant, which is a medieval musical and I play the Pirate King. So I've got a month to grow a beard. Then I shave it off the next day and I play Lord Mountbatten in a film about the partition of India.

Have you managed to keep a memento from the show?

I wanted to liberate one of the mustard pots from the dining room because that's where we kept the wink murder paper but I thought that would be a bit rotten on the props department. But I did liberate one of the letters that we read because the audience never knows this but they're beautifully written and they're always appropriate to the scene we're in. They don't just say 'blah, blah, blah' on them,  they are actually to do with coming to build a new house on the estate or something like that. They're gorgeously researched and beautifully written, so I've liberated that and put it in my scrap book.

Were the cast shocked when they found out this was going to be the last series?

Well no, actually it's an extension. We haven't been cancelled, we've been extended. We were all contracted to do five series and then Julian and Gareth and the creative team all got together and said, 'We'd like to do one more.' So it's been a lovely experience in that regard. It would of been awful like on some American shows were you are on set and they just pull the plugs. It's been a bonus. We've known for about 18 months.