So against all odds, the 2015 show 'Marvel's Agent Carter' is back. Its ratings were less than great, but ABC brought it back anyway. Either because ABC has faith that it can do better in its second series, or because the Disney overlords who run ABC want to use it to cross-market their Marvel properties. There are several elements in the first two episodes of series 2 that could tie in to either 'Marvel's Agents of S.H.I.E.L.D.' or the upcoming 'Dr. Strange' movie.

For those unfamiliar with Agent Carter, it features Strategic Scientific Reserve (SSR) Agent Peggy Carter from the 'Captain America' movies (Hayley Atwell: 'The Pillars of the Earth', 'Black Mirror'). After he's presumed dead, she return to the U.S. after World War II. Working for the SSR, she has to deal with being a woman in a heavily male-dominated espionage business. Industrialist Howard Stark (Tony's father) recruits her to secretly help clear his name when his advanced technology ends up on the black market. With the assistance of Howard's butler Edwin Jarvis (James D'Arcy), Peggy discovers that a prototype version of HYDRA is up to no good in 1946 and sets out to stop them.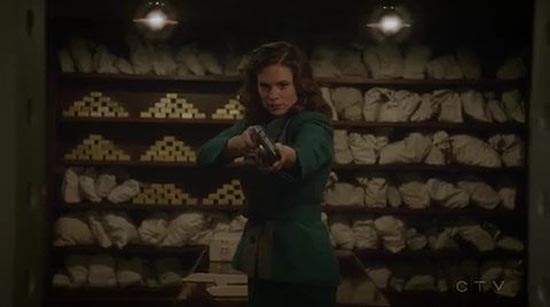 Along for the ride are Daniel Souza (Enver Gjokaj: 'Dollhouse') as a soldier crippled during the War who now works for the SSR; Jack Thompson (Chad Michael Murray: 'One Tree Hill') as her superior agent and now boss; and Dottie Underwood (Bridget Regan), a HYDRA agent who was trained in a prototype Black Widow program.

At the end of series 1, Peggy punches, kicks, and sleuths her way into stopping HYDRA's plans to attack the U.S. East Coast. And get over her feelings of loss for Captain America's death. And gets a small amount of recognition for being competent even though she's a woman, although Jack gets most of the credit.

Series 2 starts with Daniel being appointed Chief of the SSR's LA division. When Peggy's reputation gets too much for him, Jack sends her to LA to help investigate a corpse that turned up frozen in a giant ice cube, next to a frozen pond. Some old white guys who are apparently with HYDRA are calling the shots, and they're researching something called "zero matter" that fell out of a dimensional rift opened by an atomic explosion.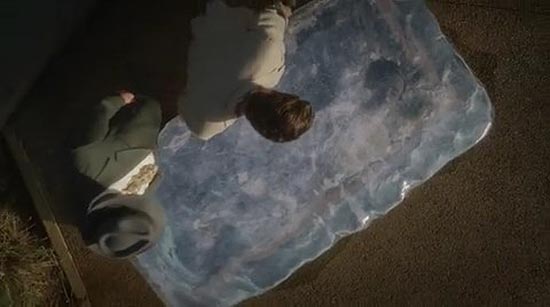 The main HYDRA representative is Whitney Frost (Wynn Everett), who comic book readers will recognize as the real name of Madame Masque from the comics. Whitney is an aging actress whose husband is with HYDRA and conducting a Senate campaign. Along the way, Peggy makes the romantic acquaintance of Jason Wilkes (Reggie Austin), an adoreably geeky African-American scientist working for Whitney's company who turns against her and tries to get the zero matter to the SSR.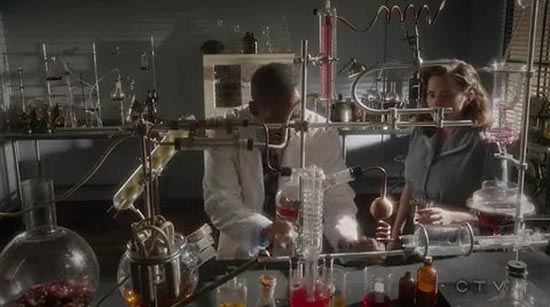 In the first of two episodes that aired January 19, "The Lady in the Lake," there's an action sequence where Peggy captures Dottie during a bank robbery connected to HYDA. Peggy then gets transferred to LA, meets back up with Jarvis, and investigates the frozen corpse. This leads her to Whitney's company, Isodyne, and a meeting with Reggie. The zero matter infects people in contact with it, turning them into popsicles, and a crooked police detective starts turning frost-white. The detective gets shot by a cop secretly on Isodyne's payroll and the detective breaks into a thousand frozen pieces. End of case.

Or is it? In the second episode, "A View in the Dark," Peggy and Daniel continue investigating the matter. Jason contacts Peggy and takes her to a jazz club, and this time we get more on how African-Americans had a tough time getting respectable jobs in the 1940s. They break into Isodyne, Whitney confronts Jason, and the zero matter explodes. We see Whitney at home afterward, her face infected with the dark matter. Peggy assumes Jason is dead.

Although the show is mostly a spy drama, there's a lot of light-hearted humor. Most of it provided by D'Arcy, whose Jarvis is eager for adventure but in over his head. He can barely handle wranging Howard Stark's pet flamingo. Tossed in this year is his wife Ava (Lotte Verbeek: 'Outlander'), who turns out to be free-spirited and liberated: the exact opposite of her husband and a friend for Peggy who is cut off from her friends in New York City.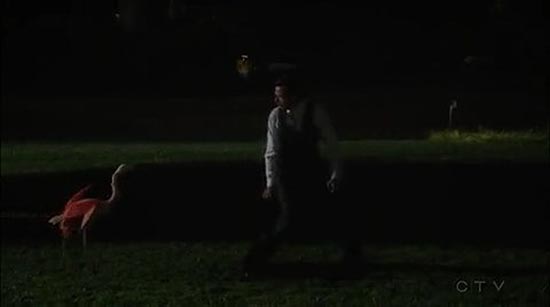 There's also romance: Peggy and Jason, and Peggy and Daniel. They both have feelings for each other, but really bad timing. When Peggy gets to LA, she discovers that Daniel has a new girlfriend, Violet. He has to keep abandoning Violet to bail out Peggy.

Overall, series 2 looks promising with zoot suits, fistfights, comic book super science, period music, humor, and more of what made 'Agent Carter' beloved by a small but loyal group in 2015. Catch it if you can, Tuesday nights at 9/8 central in the U.S., while 'Marvel's Agents of S.H.I.E.L.D.' takes a break until March.