... Than to Serve in Hell.
Thanks to the wonders of the Internet, the pilot for 'Lucifer' is out there if you want to find it. It premieres on Fox on January 25 at 8/7 central, but if you want to know what you might get into, here it is.
Lucifer has decided to take a vacation from Hell, having grown tired of punishing sinners and questioning his place in the Divine Plan. He starts up a bar in Los Angeles named Lux, and has the power to draw out the deepest desires in most humans that he meets. He's also immortal, so things like bullets don't bother him much.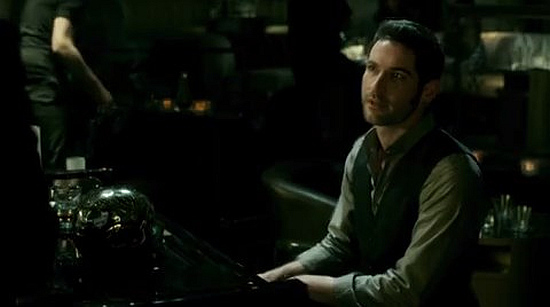 When a former client, a singer named Delilah, comes to see Lucifer, he assures her that most of her trouble since rising to success is her own. She gets gunned down on the street and Lucifer, irritated that the person responsible isn't being punished, sets out to find them. Lucifer teams up with a cop, Chloe Dancer, who has enough baggage to fill an airport terminal. She doesn't believe he's Lucifer Morningstar, even though Lucifer isn't shy about telling her or hiding what he can do.
Together Lucifer and Chloe find the person who ordered the hit on Delilah. Along the way Lucifer discovers that his charm power doesn't work on Chloe. Intrigued, he decides to keep working with her and make sure that the guilty get punished. Along the way, the forces of both Heaven and Hell want Lucifer to go back to work because Hell isn't functioning very well without him.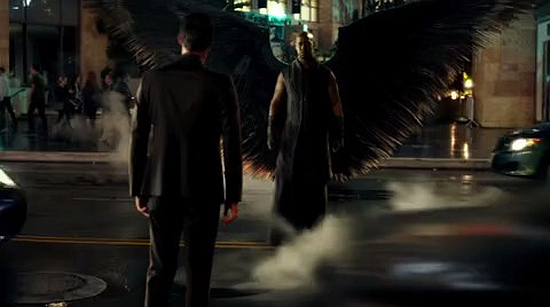 Conceptually, the show is a lot like last year's ill-fated 'Constantine' show on NBC. Both have a charming bad-boy Brit in the title role. Both have an angel that has his own agenda and doesn't really care much about our protagonist. Lucifer and Constantine both have perky female characters along with them who have their own dark pasts.
Tom Ellis is Lucifer. Ellis appeared in the USA series 'Rush' a couple of years back, and has been in a lot of English stuff. Including 'The Fades' *sigh*. He even played Robin Hood briefly on 'Once Upon a Time' before they cast Sean Maguire in the part. He's competent as Lucifer, bringing the charm and snark as well as the occasional hint of something darker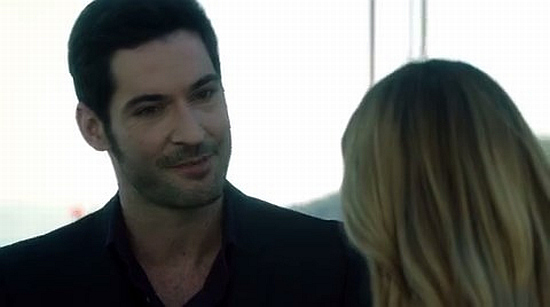 Lauren German is Chloe, who has been a regular on a couple of shows like 'Chicago Fire' and the new 'Hawaii Five-0'. She's equally competent here.
Rounding out the cast are Lesley-Ann Brandt and D.B. Woodside as the respective demon and angel that are there to get Lucifer back on-track. Rachael Harris as a therapist who ends up counseling Lucifer and having sex with him at the same time, and Scarlett Estevez as Trixie, Chloe's daughter. Kevin Alejandro is set to play Dan, Chloe's ex and a fellow police detective, but he's played by Nicholas Gonzales in the pilot.
The pilot is written by Tom Kapinos, who has done a lot of 'Californation' episode. The writing is the highlight of the show, but it... varies. There are the obvious riffs by Lucifer when someone says, "Oh God!", and since he's in LA, Lucifer tends to get mistaken for some kind of celebrity because of his name. He takes everything literally, such as Chloe talking about how large his cajones are, but it's hard to determine if this is just mediocre writing, or Kapinos is trying to convey that Lucifer is so used to being king of his kingdom that he doesn't care what anyone else thinks or does.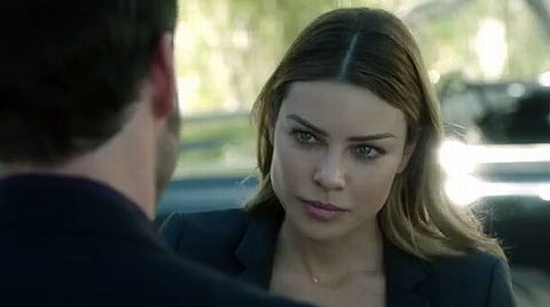 Lucifer's snark so far really isn't up to the levels of the great TV Satans: John Glover in 'Brimstone' and Ray Wise in 'Reaper'.
Another problem with the show is that Chloe has almost too much baggage. Like Lucifer, the family scenes give me IBS. Chloe has a past as a teenage actress who did nudity (??). She's a pariah on the force because of a bad call on an officer shooting years ago. She has a cute kid. She has an ex-husband. She has daddy issues. She has mommy issues. At the end of the pilot, Lucifer meets with his therapist, However, you'd think that Chloe is the one who needs decades of counseling.
And finally... right now it's a crime drama. Nobody can resist Lucifer's power, and he's immune to bullets. So presumably they'll be dragging in some supernatural elements at some point. Because otherwise Lucifer makes a pretty overpowering private investigator. The case in the pilot isn't any different than you'd find in a dozen other crime dramas. It's not a bad crime drama, but it's not a particularly exciting one, either.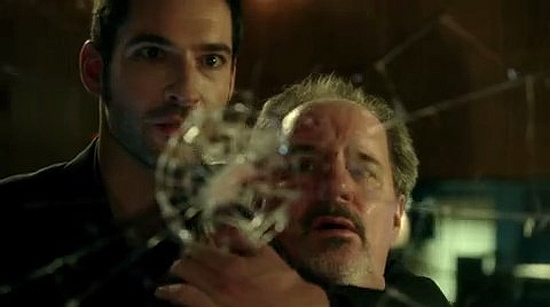 So if you hate supernatural stuff, you probably want them to stop with the angelic appearances and get on to crime fighting. If you're here for the supernatural stuff, you're probably bored with the procedural elements. Setting it in LA and involving actors and singers makes it a little more interesting. But not much.
Of course, that's all just going by the pilot. A large chunk of pilots are produced by different teams than the ones that end up producing the series during its remaining run. Maybe the producers will quickly realize the limitations of the show as they've started it, and have plans to take it in a totally different direction.
So pluses for Tom Ellis' performance, the hints of Heaven and Hell both being displeased with Lucifer's vacation, and about half of the dialogue. Minuses for the average cop detective partner and her endless angst, the other half of the oh-so-predictable dialogue, and the mediocre crime procedural elements.
But check it out for yourself. Mondays at 9/8 central. It'll at least give us something to do after the 'X-Files' revival while we're waiting for 'Gotham' to come back.