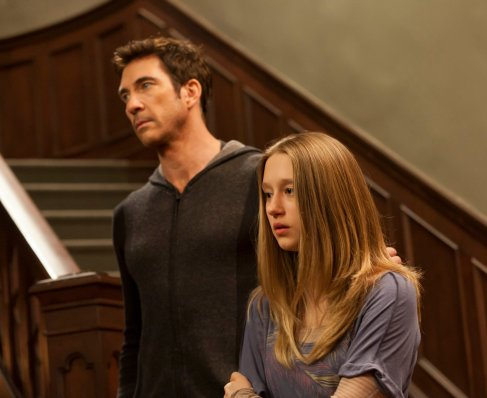 Worried that American Horror Story's main characters the Harmon family haven't been paying much attention to the ghostly figures seemingly so obsessed with their house? Think again! As Violet becomes more attuned to the ghostly goings-on of the house, she's going to bring her mother and father closer to the truth than ever before!
The latest clip from American Horror Story's "Open House" sees Vivien Harmon (Connie Briton) finally cluing into the identity of the mysterious woman who once came to look at the house and just as quickly vanished, as daughter Violet (Taissa Farmiga) uncovers photographs from the attic of the house's original owners, Dr. Charles Montgomery (Matt Ross) and his wife Nora Montgomery (Lily Rabe). But will the spirits of house owners past allow the family to leave, now that Vivien has a serious buyer lined up from her "Open House?"
Following last week's spine-tingling "Piggy Piggy," Wednesdays' latest American Horror Story tale sees housekeeper Moira (Frances Conroy / Alexandra Breckinridge) aiding the family in persuading a new buyer to take the home off their hands, while Constance (Jessica Lange) and the enigmatic Larry (Denis O'Hare) work against them with their own nefarious plans.
Check out the latest clip from "Open House" as Vivien attempts to level with her daughter Violet on their reasons for selling the house, ending her marriage to Ben, and unwittingly answer's questions about her daughter's growing affection for Tate (Evan Peters)!
Will Ben and Vivien work things out in time to combat the horrible evil attempting to keep them in the house? Will Violet fall for the troubled Tate, or help him move on into the afterlife? And when will we learn about that creepy Rubber Man? Tune into "Open House" for the latest on these burning questions!
American Horror Story airs Wednesdays on FX, 10pm / 9 Central.