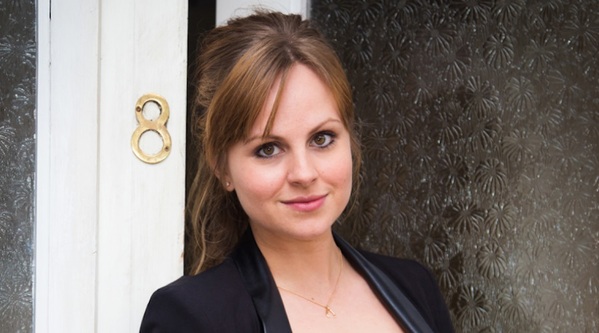 Tina O'Brien talks about Sarah giving birth to Callum's baby and her memories of Sarah's teenage pregnancy storyline and the huge reaction there was to it. Coronation Street can be seen on Monday, Wednesday and Friday evenings on ITV.

How is Sarah feeling in the lead up to the birth?
She's really anxious because she's had past issues with pregnancy. She was pregnant with baby Billy who was born prematurely and sadly died so she still has a lot of issues with that. Although she has clearly moved on a lot I think being pregnant again has brought back all her anxieties and fears of the same thing happening, under the circumstances of an unwanted pregnancy. 
She gets emotional in the flower shop, is that to do with the baby?
Yes, Todd is saying stuff about Billy and there's a really nice moment between him and Sarah, but there wasn't really enough time to me to cry because suddenly Sarah feels her contractions starting.
What's going through her head when the contractions start five weeks early?
She's in massive denial. She doesn't want to believe that she's actually in labour so she tries to convince herself it's anything but labour.
After being rushed to hospital she doesn't want to have a caesarean. Why is that?
She refuses the caesarean because that's what she had to have when she lost her baby Billy so she's fearful that if she has a caesarean it's all going to go wrong and the baby will die. She thinks if she can have a natural labour things will go better.
So she's really scared for the life of the baby?
She's just got it in her head that something is going to go wrong. It's almost like a defence mechanism. I think she feels that if something does go wrong she's preparing herself.
How supportive is Todd?
He's amazing, he's the one that gets her through it. Kylie is meant to be there as the birthing partner but she's busy elsewhere so Todd is really the one to talk her through it and reminds her that this isn't Billy, this is a different situation.
Who else comes to the hospital with her?
David arrives, so she's stuck with these two guys that she doesn't actually want to be in labour with, this was not her plan whatsoever. She just tries to make the best of the situation.
How does she feel when she sees her baby for the first time?
She already knew she was having a boy. At first, having a baby really wasn't what she wanted but then she had a scare where she couldn't feel the baby moving and it hit home to her that she does want this baby. It isn't the baby she has a problem with, it's Callum, so when she sees the baby she's completely madly in love with him straight away.
How does she feel when Marion turns up?
Sarah goes a bit nuts. Seeing Marion brings back the last time she saw Callum so she doesn't want to see her at all. She becomes very territorial over the baby and doesn't want Marion anywhere near her or her son.
How is she coping with Callum's death and how scared is she that the truth could still come out?
Having the baby really brings Callum's death home to her. Now she has this baby it's a constant reminder that it's never going to be all right and it's never going to go away.
What was it like filming the birth scenes this time especially as you are now a mum yourself?
It's interesting because the last time I filmed labour scenes for Coronation Street I was 16 and I'd never given birth. They gave me a VHS of women in labour - this was before the days of Call The Midwife and One Born Every Minute - and I was horrified. Since then I've 'given birth' to triplets on Call The Midwife and my character was pregnant in Casualty as well. This time it was really tiring filming the scenes because having had children I felt like I was really in labour!
What are your memories of Sarah's teenage pregnancy storyline and the huge reaction there was to it?
I don't think I understood how big it was because I was just 16, playing a 13-year-old. I had only just joined Coronation Street so I was very young, very naive and I assumed that all the storylines were perceived this way and it's now only looking back that I realise how massive it was.
Has your oldest daughter realised you're pregnant on screen and what has she said about it?
She has seen me pregnant but I don't let her watch things that might upset her, such as a scene recently where I was hit by a car. She saw me in Call The Midwife where I gave birth to the triplets and afterwards she said: "I never want to see that again, Mummy!" so she won't be watching this episode either.