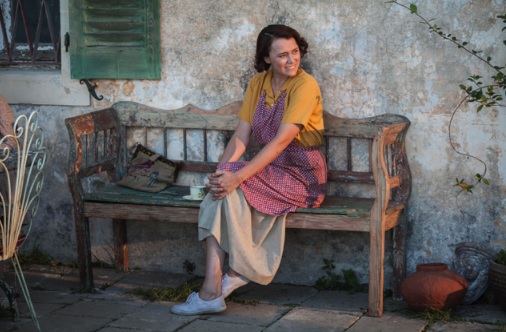 I was lucky enough to attend the official press event ahead of the upcoming ITV adaptation of The Durrells starring Keeley Hawes. The whole first episode had everyone captivated from the moment it started. In my opinion this series is set to be the next big hit for ITV and is a real treat for all the family. Keeley Hawes plays Louisa Durrell and she shares her thoughts about starring on the show. The Durrells can be seen on Sunday evenings at 8pm on ITV from from April, 3rd.
What appealed to you about The Durrells?
The scripts are fantastic and so funny. I love the books so that was the one thing I was most relieved about. I came to Corfu on a family holiday when I was around nine or ten. It was the first time I had been abroad. I had just read the first book and it was literally like stepping into the pages. It was amazing. So I've always been very close to it. I had started reading the first book to my two youngest children when The Durrells came along. So it was all rather nice and timely. I think my children will love this show. They have been over to Corfu and I've been able to fly home during breaks in filming. It's not far and it's not forever. Usually I get to film in Bermondsey and Luton. I don't think anyone could blame me for jumping at this and making the most of it.
Were you familiar with the previous TV adaptations in 1987 and 2005?
Before the second one I was working on a Marple with Matthew Goode who was then going off to play Larry Durrell in that film. I was really frustrated because this was 10 years ago, I wasn't old enough to play the mother and there just wasn't a part for me. So when I heard they were doing this my heart skipped a beat. I was about a quarter of the way through reading it to my children when The Durrells came up and I was genuinely thrilled. Then I thought, 'Oh, I might not be old enough.' But I was about to turn 40. The oldest child Larry is 21 and in those days Louisa would have been not much older than me. So I'm playing my age, which is good. My mum had my brother when she was 19. People did.
Who is Louisa Durrell?
Louisa Dixie Durrell is slightly different from the woman we know from the Gerald Durrell books. Because the books are told from a child's point of view and the stories about his mother are of this perfect woman. There's no mention of any money worries or troubles. She's the perfect mother. He's the baby of the family and she lets him get away with everything. One of the things I really like about this TV version is Louisa is a woman struggling. She's been on her own for eight years since her husband died, bringing up three teenagers and a little boy on her own. And she does something so brave and amazing to move from Bournemouth to Corfu. Today it's relatively easy to get to Corfu in a few hours by plane. But it would still be seen as a big step. Back in 1935 Louisa took four children to Corfu. A single mother taking four children to a foreign country. To a Greek island with a different language, no electricity, no telephone, no quick budget flight back home. Just a complete change of life. To lift them all up and say, 'Right, I'm going to give you a better life than the one we have now and this is what we are going to do.' That is such a brave, forward -­ thinking, modern thing for a woman on her own to do. Amazing. A real achievement. When Louisa gets there she says she came to Corfu to rescue her family. That's exactly what she's doing. She is saving them from an existence in England which isn't good enough for them. They have not been making the most of who they are. She wants a better life for them and just takes life by the horns and makes it happen. I think today everybody probably has a little fantasy about dropping everything and going to live in the sun. But we also live in an age where you can travel fairly easily. You can take your children to these amazing places and have once in a lifetime experiences with them.
Tell us about your screen family?
It really does feel like we have been a real family forever: Larry (Josh O'Connor), Leslie (Callum Woodhouse), Margo (Daisy Waterstone) and Gerry (Milo Parker). That's not anything we've worked at. It just happened. I could not wish for a better 'foster' family. They're all completely different and all so well cast. Exactly what you want your Larry, Leslie and Margo to be if you're a fan of the books. You fall in love with them all. And Milo as Gerry is heaven. He's such a natural actor. He can just do it.
Could you have played this part as well if you hadn't been a mother yourself?
I hope so. But it absolutely helps to work with children if you're very used to them and you know how you behave with your own children. One of the things I really love about Simon Nye's scripts is the fact that some of the arguments they have take your breath away. They're quite full on, some of them. Some of the things, particularly, that Larry says. You think, 'Well that's a bit strong. God, that's so hurtful. Even if it is true.' But actually that's what families are like. If your family can't say those things to you then who can? It feels very real. Louisa is a loving, protective mother. Her children are the be all and end all. That's why she's made this journey. And it's very difficult for her. She doesn't work and they weren't wealthy. So there were struggles. What do you do if you have no money? There's no fall back. You have to feed four children and yourself. Yet when one of them is taken ill, money is suddenly meaningless. Money doesn't matter at all when real things happen. But she does need to feed them! At one stage Louisa says, 'Nothing is about me, my life is devoured by my children.' Anybody who is a mother will know exactly what that's like. Once you're a mother it's not about you anymore, ever again. I wouldn't have it any other way.
Has there ever been a time in your own life where you had no money?
Yes there has. I'm pleased I had a time like that because it does make you appreciate things more. Also with acting it's feast or famine. And if you're not very good at putting something aside for when you're not busy then that's that. There's no holiday pay for actors. If you're not working you don't get paid at the end of the month.
Louisa is frustrated by the language barrier when she tries to get a job. Have you learned any Greek while working in Corfu?
I am also crushed by the language barrier. Just ordering a beer is hard enough for me. I might have a bit more Greek vocabulary by the time I finish this though.
Gerry brings a number of animals home from his explorations. Have you had many scenes with them?
There has been a lot of interaction with the animals. We have two pelicans on location in Corfu. A pelican and a pelican double. We have our lovely dog who is gorgeous and playing Roger. People say never work with children or animals but they clearly haven't worked with this lot because it's a joy. When you have an animal in a scene -­ trained or not ‐ you don't know what they're going to do. It's a magical thing because they're improvising all the time. It keeps everybody on their toes and you just go with it. Which is great. It brings something very real to all of it and it's lovely having them all around, including tortoises wandering about on the table. Then there are the gorgeous puppies who appear. They've all been very well behaved.
What about other creatures?
If you're on holiday in Corfu then the mosquitos aren't a problem. It's only when you go to some of the very wooded locations where we have been to film. That's when you know all about it. We're all very relaxed with each other now and if you were to look at us from a bit further away you would just see a lot of people slapping each other. You need your friends around you at those moments.
How would you describe Louisa's relationship with Spiro, played by Alexis Georgoulis?
That's a lovely relationship. I think the casting of Alexis is really refreshing because he's not the stereotypical chap from the book. Spiro is a wonderful character in the book and I'm sure he was a fantastic man. But there's nothing wrong with re-inventing him slightly. He still has all of the qualities that man obviously had and brought to that family. He was their rock. They couldn't have done without him. Alexis is so charismatic. He has all the attitude of the Spiro that you know and love if you've loved the books. But in just a slightly different wrapping. And he brings all of that personality. It's also heaven for me when Alexis is around. He is so famous in Corfu and across Greece. A couple of Brits have recognised me in Corfu but otherwise not. It's Alexis who gets all the attention. Which is nice.
Tell us about Leslie Caron, who plays the Countess?
I met her for the first time at the script read ­‐ through. It's amazing casting. I have a couple of scenes with her but mostly it's Daisy, as Margo, and the fabulous Jeremy Swift.
Theo, played by Yorgos Karamihos, befriends Gerry and the family in Corfu?
Theo knows everything. And Yorgos, the actor who plays him, also knows everything. So that's very useful. Yorgos has studied all sorts of things and is very well educated, charming, funny and a brilliant actor. You could not find a better Theo from your imagination in the book.
Louisa's eldest son Larry decides his mother needs a man. Who does he invite to dinner?
Larry decides that Louisa needs sex and then sets about finding some wholly inappropriate partners for her. One of which is Captain Creech, played by James Cosmo, who Larry meets in a bar in Corfu Town. He brings him home to meet mother and the captain promptly gets absolutely blotto. He is a lecherous old sea dog who is totally unsuitable. Everything he says is inappropriate, offensive and hilarious. She takes it well, considering. But later he seizes Louisa and kisses her rather brutally on the lips. That's when she grabs a gun and ends up shooting the food off his plate. It was actually me with the gun in that scene. I enjoyed doing that. It was an air rifle so exciting to do bu t you know it's not going to hurt people. James Cosmo is terrific in that role.
How would you describe Louisa's look when she gets to Corfu?
It's 1930s. A working wardrobe, really. Make do and mend. But beautiful. Our costume designer Charlotte Holdich has done such an amazing job. Everybody looks so perfect. It looks really wonderful.
Gerald Durrell went on to create what is now the Durrell Wildlife Conservation Trust and Durrell Wildlife Park in Jersey. You've worked in Jersey?
I have. I filmed Under The Greenwood Tree in Jersey for ITV about 10 years ago. I had a lovely time on the island and took my children over there. Durrell is a great charity and it's very nice to be linked to them through this series. I'd love to go back to Jersey. It hought it was a wonderful place.
What has it been like filming in Corfu, including some locations linked to the real Durrell family when they lived there?
It was pretty much paradise here in Corfu the other day where we shot a scene near the family's house which is right next to the sea. They place a table and chairs in the sea, which is very shallow at that point, and eat their lunch there to keep cool. The area by the Durrell's house is just unspeakably beautiful. You look down over the wall at the front of the house and the sea comes right up. But the tide never gets too high. So it just got up to the tops of the chairs and then flows away again when the tide turns.
The Greek financial crisis meant the producers explored other possible locations for filming before deciding the series really had to be shot in the original setting?
We had to film this in Corfu. Nowhere else would do. The house we're in could not be more perfect. It's wonderful. It all looks so authentic, how it would have looked back then. Corfu is gorgeous and the people are so lovely. They can't do enough for you. They're a very generous, welcoming people and so friendly. It's very relaxing everywhere you, go. People saying, 'Why are you so stressed? Just chill out.' It's a lovely atmosphere. People in this part of the world haven't been having a great time of late and yet they are open and friendly. You wouldn't know that they'd been through this financial nightmare. There's a big difference between what you see on the news and the reality. It's a lovely place to come to.
How would you sum up the appeal of The Durrells?
Every way you look here there is something of beauty. I really hope people enjoy it. The scripts are so sweet and funny. But they're not saccharine. You believe in these people and you're with them. It's a real ensemble thing as well. Everybody has their story. I'm usually filming at the back end of nowhere. So I was determined to come here and enjoy it. There are children and animals and every day is different. You have to embrace it and have fun. It's just a fantastic opportunity and it would be crazy not to make the most of it. This is really up there with the best of what I've done.