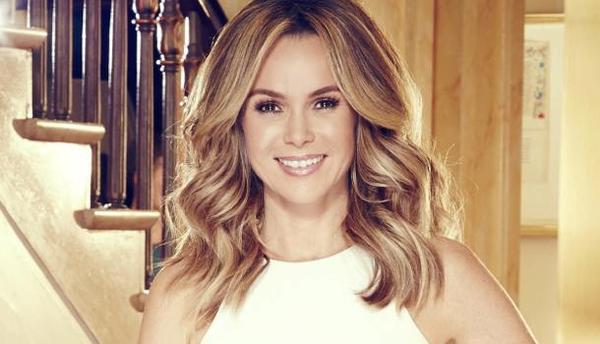 Amanda Holden talks about the new series of Britain's Got Talent which returns on Saturday, April 9th at 7pm.
Did you ever imagine when you started this show that you would still be going strong ten years later?
No, I didn't think I would be doing it for ten years. I'll always remember being at home in the kitchen stirring soup and getting the call and then saying to Chris, 'Oh, that might be a nice gig, maybe five years'. At the time Sharon Osbourne had done about five years on X Factor so I had five years in my head.
What's your first memory of the show?
I think the first memory of the show is actually behind the scenes, I was sat with Simon, Piers was standing over there before we walked on to the stage. Simon had his arm around me and he was wearing a grey jumper, I had a red top on which I have since found out was the wrong way around. He had his arm around me and looked at Piers and me and said, 'I don't know if this show is going to work guys but let's just have a go'. That was it, we went and after that I just remember doing lots and lots of crying. I think at the time it was quite new to have a female judge who didn't stop crying, I set the trend for crying. And I never got a deal with Kleenex!
Was there a moment when you knew the show was going to be really successful?
When Paul Potts came out and said who he was and what he was, he was in this really scruffy suit, he had literally come from work, and then he opened his mouth and he sang, I knew it was a knock-out moment. At that point I thought that this was about people with hidden talent, who is not going to love it?
Has your opinion of Britain and what we have to offer changed over the years?
Britain has evolved and got worse in a sense, but in a good way. All the mad stuff is just crazy and all the good stuff is so imaginative, so intelligent, so clever but not pretentious. I don't know what other talent shows are like in other areas of the world but I think ours feels like the best one because we still don't take ourselves seriously and neither does the judging panel. I think that's the bottom line, that's how it works. We take the show seriously but none of us take ourselves seriously. I think the acts don't either. There's that self-deprecation underneath most of the acts where you can laugh and know it's just a bit of a giggle really. I think as long as it stays like that, it will work. It's the heart of Britain, I think.
What impact do you think the show has had on audiences?
We have never had any barriers, we don't care who comes on and there haven't been any rules. That is very much what Simon is like in his life, he hates rules and any rules are there to be broken. He encourages bad behaviour from all of us on the panel and anyone who stands on the stage. He encourages people to be themselves and I think the show encourages that. I think that has given the people on the stage room to grow and be confident to do it and I think it's educated people watching it. It's a cliché but I can't think of another phrase, but you just don't judge a book by its cover. We still kind of do, to this day I thought Susan Boyle was going to be a stand-up comic. It still shocks me when I watch it and she opens her mouth and sings. All kinds of acts come on and I still make a judgement in my head about what they are wearing, what they are and they always surprise me. It's human nature but I think it's the biggest barrier breaker on TV.
Why do you think a show in Britain is still so huge around the world?
It's because we are the best and we don't take ourselves seriously. I think it's funny because we don't try to be funny, if that makes sense. What we do everyone else then tries to copy, so everyone tries to get the Susan Boyle moment, which was just a natural accident. Everyone tries to get a chemistry with the various judges sat next to them which simply isn't there if it's not there from the beginning. It's just an accident. Everything that's happened has come from us all genuinely being ourselves and not acting in any way.
You pressed your Golden Buzzer for a young girl who sang a musical theatre number, what was so special about her?
I am a real sucker for kids and for musical theatre. She came on and she sang Defying Gravity from Wicked, which is an incredible musical. I kept thinking that I really wanted to press my buzzer but we had only been doing the show for a day, we were in Liverpool and we had everything ahead of us so was this going to be the right thing? It was my heart telling me to do it, you can let your head interfere with your life all the time, I don't and I am always in trouble because of it, I listened to my heart and pressed the buzzer and I don't have any regrets. Although I have to say there have been a number of times since that I have gone, 'Oh my god, I would have pressed my buzzer for that' because it's been an incredible year. Alesha's buzzer could win the show, it's amazing.
Isn't there a bet going with the judges and Ant & Dec?
I upped it! 'Let's put a fiver in a pot' said Ant & Dec, they are so tight! I said, 'A fiver? That's not going to change anything! Let's do £50'. Then they were like, 'Shall we give it to charity?' and I went, 'No! Let's go to the pub! Whoever wins gets the drinks in!'
You got into a spat with Simon and covered him in water during auditions, what happened?
Simon, when he thinks he's being funny, doesn't know about the rule of three. He's got a rule of ten where he just repeats and repeats himself and it's just not funny. I gave him several warnings to stop it and in the end I threw the water on him and then had that moment where I think, 'Oh god!' and then I looked at his make-up artist and she was really cross. I looked at Simon and thought, 'OK, I've got away with it', so I carried on giving my criticism and he carried on going, so I picked up another glass of water and didn't even look, I just chucked it over him and got him on the chest. He looked like Katie Price in a wet t-shirt competition but, you know, with pecs! He was laughing his head off but his make-up artist, literally had steam coming out of her ears! She was so cross! I apologised to her. I got told off by everyone and he actually said, 'No, I am happy to sit here', he wanted to sit there and do the rest of the show because he looked hot in a wet shirt and he knew it, but they made him change his shirt.
It's been mentioned that you are definitely coming back next series, is that true?
I think if I have the invitation to come back then I would but if I don't then ten years is a fantastic number to end on.