X-Factor judge Nicole Scherzinger took a lot of heat this week for her indecisiveness. Scherzinger was already riled by the death threats she received for her decision last week to let go off Drew Ryniewicz.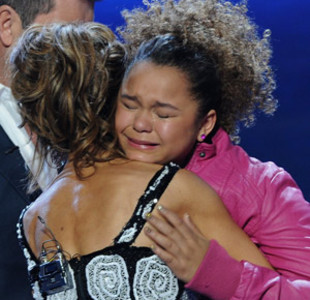 This week she was in tears when the elimination came down to Rachel Crow and Marcus Canty. She opted instead to let the voters decided. They did, and Crow was left in tears sobbing for her mother as Canty moved on.
Now the X-Factor judge finds herself in another  vulnerable position. Reports came in that Abdul and Scherzinger were sobbing after the show. The stakes are very high in the competition and every performer left has talen. It is not surprising to see these ladies upset to have to destroy a dream.
Fortunately for Crow it has not been a nightmare. The 13-year-old has a meeting with Disney at the end of the month. This former X Factor contestant will land on her feet. Most likely as a raising Disney star or as a signed recording artist. Let's hope things go better for her than Miley Cyrus.
How are you feeling about Scherzinger's run as judge on X Factor? Many fans have had enough. The public outcry is for her too quit. The Insider has gathered some of the comments from her Facebook page. These profanity laden posts are not for the faint of heart. It is time for you to speak out, do you believe that Scherzinger deserves this verbal abuse? Or has the public gone to far? Crow herself has been upset about the comments tweeting to Scherzinger her support.
American Idol has been full of controversy, but nothing has compared to this first season of X factor! As we get closer to choosing the winner can we expect things to get worse or better. The ratings have never been as strong as Idol, but  X Factor has performed better than the scripted shows it replaced on Fox. It has been an improvement for the network and speculation has begun on how it will effect American Idol when it returns January 18th.