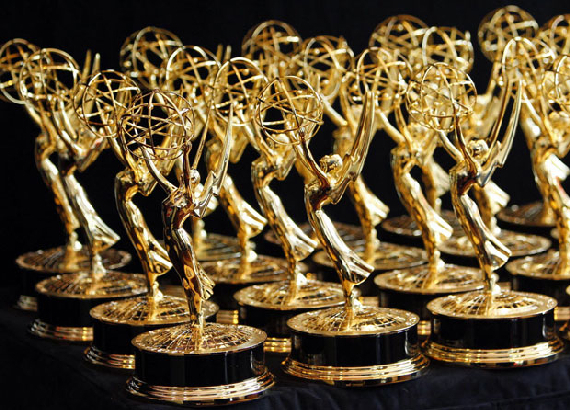 The 2012 Emmy nominations have been announced, and, as always, there were some surprise nominations and some obvious ones. Mad Men, naturally, led the pack, with its fifth season receiving a whopping seventeen nominations. Also making a surprisingly strong showing was Downton Abbey, which moved up from the Miniseries or Movie category to become a major contender for all the big drama categories. Snubbed were the FX comedy series Louie for the best comedy slot, Starz's Boss for the drama slot, and Kelsey Grammer for Best Actor for his lead in Boss (he won the Golden Globe for the role earlier this year). Community, once again, also sadly failed to score a nod. Nominations I'm happy occurred include Giancarlo Esposito (Breaking Bad) and Jared Harris (Mad Men), both for Best Supporting Actor, as well as Louis CK for Best Actor in a Comedy. Also, with both Sherlock and Luther heading up the best Miniseries/Movie category, it's hard to complain there, though FX's American Horror Story might bring some difficult competition. Here are the nominees:
Best drama
Boardwalk Empire
Breaking Bad
Downton Abbey
Game of Thrones
Homeland
Mad Men
Best comedy
The Big Bang Theory
Curb Your
Girls
Modern Family
30 Rock
Veep
Lead actor in a drama
Hugh Bonneville, Downton Abbey
Steve Buscemi, Boardwalk Empire
Bryan Cranston, Breaking Bad
Jon Hamm, Mad Men
Damian Lewis, Homeland
Michael C. Hall, Dexter
Lead actress in drama
Kathy Bates, Harry's Law
Glenn Close, Damages
Claire Danes, Homeland
Julianna Margulies, The Good Wife
Michelle Dockery, Downton Abbey
Elisabeth Moss, Mad Men
Best comedy actress
Zooey Deschanel, The New Girl
Lena Dunham, Girls
Edie Falco, Nurse Jackie
Tina Fey, 30 Rock
Julia Louis-Dreyfus, Veep
Melissa McCarthy, Mike and Molly
Amy Poehler, Parks and Recreation
Best comedy actor
Alec Baldwin, 30 Rock
Don Cheadle, House of Lies
Louis C.K., Louie
Jon Cryer, Two and a Half Men
Larry David, Curb Your Enthusiasm
Jim Parsons, The Big Bang Theory
Best supporting actor, comedy
Ed O'Neill, Modern Family
Jesse Tyler Ferguson, Modern Family
Ty Burrell, Modern Family
Eric Stonestreet, Modern Family
Max Greenfield, The New Girl
Bill Hader, Saturday Night Live
Best supporting actress, drama
Anna Gunn, Breaking Bad
Maggie Smith, Downton Abbey
Joanne Froggatt, Downton Abbey
Archie Panjabi, The Good Wife
Christine Baranski, The Good Wife
Christina Hendricks, Mad Men
Best supporting actor, drama
Aaron Paul, Breaking Bad
Giancarlo Esposito, Breaking Bad
Brendan Coyle, Downton Abbey
Jim Carter, Downton Abbey
Peter Dinklage, Game of Thrones
Jared Harris, Mad Men

Best supporting actress, comedy
Mayim Bialik, The Big Bang Theory
Kathryn Joosten, Desperate Housewives
Julie Bowen, Modern Family
Sofia Vergara, Modern Family
Merritt Wever, Nurse Jackie
Kristen Wiig, Saturday Night Live
Best miniseries or movie
Game Change
American Horror Story
Hatfield and McCoys
Hemingway and Gellhorn
Luther
Sherlock
Outstanding variety series
The Colbert Report
The Daily Show With Jon Stewart
Jimmy Kimmel Live
Late Night With Jimmy Fallon
Real Time With Bill Maher
Saturday Night Live

Best competition reality show
The Amazing Race
Dancing with the Stars
Project Runway
So You Think You Can Dance
The Voice
Top Chef
Movie/miniseries actor
Benedict Cumberbatch, Sherlock
Idris Elba, Luther
Woody Harrelson, Game Change
Kevin Costner, Hatfields & McCoys
Clive Owen, Hemingway & Gellhorn
Bill Paxton, Hatfields & McCoys
Movie/miniseries actress
Connie Britton, American Horror Story
Ashley Judd, Missing
Julianne Moore, Game Change
Nicole Kidman, Hemingway & Gellhorn
Emma Thompson, The Song of Lunch
The winners will be announced on September 23.