Not sure if this is a TV or movie review tonight, as part of the episode was hype for a movie.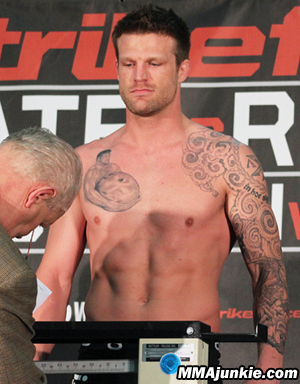 This week's "Ultimate Fighter: Team Carwin vs. Team Nelson" show featured another fight pitting guys we don't know against each other in a dull fight.
Nelson went with the unconventional method of drawing straws to pick the next fight. Red Mohawk Julian got the short straw, and promised the knockout of the season.
In a not-so-subtle plug, the fighters were taken to a theater to watch the new Kevin James film "Here Comes the Boom" to break up the monotony. Clips of said film were then shown. While I'm a man who thoroughly enjoys the theater-going experience and can understand this being a treat for the fighters, I didn't need to see it during this program.
This week's fight was between Bristol Marunde (Team Carwin) and Julian Lane (Team Nelson). I had the first round very close. Bristol won via unanimous decision to advance.
Nelson approached White after the fight about a supposed problem with the scale not balancing, and wondered if White wanted him to keep an eye on the commission. White wondered why he didn't bring it up before the fight. "You can't fix stupid," White said about Nelson. "You can't."
The good news for FX and the UFC is that there was a live Fight Night beforehand, so the show will hopefully rebound from last week's record low. Next week Julian goes nuts in the house, and Ricci freaks out when his bed ends up outside.