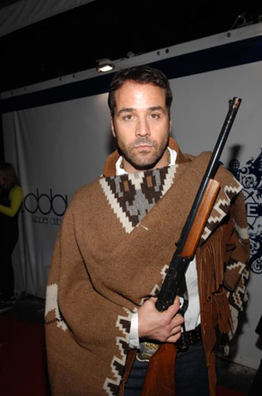 Jeremy Piven is coming back to the small screen - but without Lloyd.
Piven is staring in Mr. Selfridge, a period drama, for British producers ITV Studios. The series has proven to be a strong early seller for ITV.
The series follows the rise and fall of Mr. Harry Gordon Selfridge Jr. (played by Piven), an ambitious American retail mogul who makes and loses a fortune in London from 1909 to 1939. While working at Marshall Field, Selfridge is the person who created the phrase "Only _____ Shopping Days Until Christmas". And he quite possibly also invented the phrase "The customer is always right." So people working retail, direct your hatred at this guy.
The nine-episode series has been presold to Ireland's TV3, Norwegian public broadcaster NRK and Finland's YLE. PBS has secured broadcast rights to the series in the United States. And in Britain it will be on ITV1.
Piven has been mostly quiet since Entourage ended its long run last year. He was last heard in The Pirates! Band of Misfits movie this summer.
Does this series sound appealing to you? Piven grates on me. In small doses I think he is okay, but he is not a leading man in my eyes.