Yahoo! Sports and NBC Sports will team up for web content.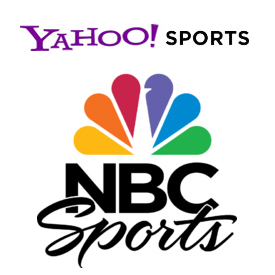 Yahoo! Sports and the NBC Sports Group will still have separate sites and editorial control, but will collaborate on premium sports news and events coverage online and on air.
"We're thrilled to combine Yahoo's fantasy offerings, product innovation and editorial authority with NBC's broadcast coverage of live sports events and award-winning on-air talent. We think our users will love the result," Ken Fuchs, Yahoo Sports and Games vice president, said in a statement.
Marissa Mayer took over Yahoo about six months ago.
Yahoo also made a similar deal with CNBC in July. CNBC is also a division of NBC Universal.
The company has done smaller deals with NBC Sports in the past.
Yahoo! Sports will also become the exclusive fantasy game provider on NBC Sports' Rotoworld fantasy news and information site.
"The complementary nature of this partnership is unmatched in digital sports media," Mark Lazarus, NBC Sports Group chairman, said. "Through our growing television and digital platforms, the Yahoo! Sports partnership dramatically expands the digital reach of NBC Sports around the biggest sporting events. We are committed to continually growing this alliance for the benefit of both parties, our sports-property partners, and, most importantly, sports fans."