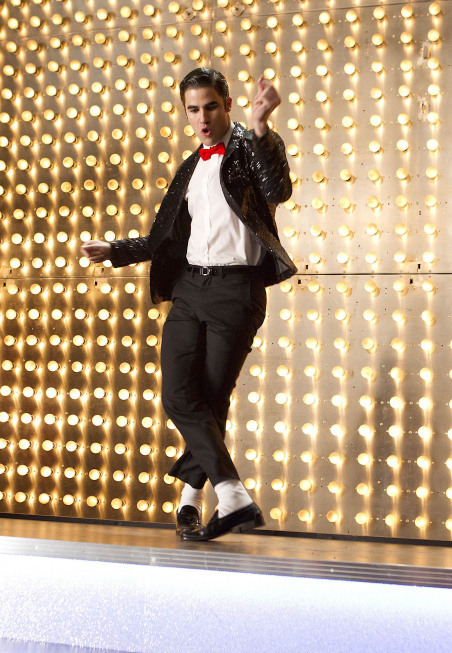 Welcome to Tuesday, January 31st!  Your round of weekly TV continues as tonight Glee returns with a tribute to Michael Jackson, and Celebrity Wife Swap airs its season finale.

Did you check out Gossip Girl's 100th episode last night, or are you a Bachelor-type?  Read on, for your guide to how to kick off the night right!
Time to set your DVRs, and curl up at night with the best shows on the best night of the week for TV, and TVRage has your guide to everything you need to watch tonight!
Glee - "Michael" - Kurt and Rachel finally learn news of their NYADA applications as the rivalry between New Directions and Sebastian (Grant Gustin)'s Warblers intensifies on the road to Regionals.  FOX, 8:00 - 9:00pm, ET
90210 - "Trust, Truth and Traffic" - When Dixon is arrested, Annie makes a decision that could expose her as an escort, while Adrianna and Silver work to repair their frienship, to Greg's chagrin.  The CW, 8:00 - 9:00pm, ET
Ringer - "It Just Got Normal" - Bridget hosts a fundraser that her friend is holding for Juliet's school, sibhan is surprised to learn how easily Bridget has settled into her former life, and Malcolm begins working for Andrew.  The CW, 9:00 - 10:00pm, ET
Celebrity Wife Swap - It's season finale, the wives of wrestler Mick Foley and soap star Antonio Sabato Jr. trade, leading to an explosive conflict.  ABC, 9:00 - 10:00pm, ET
New Girl - "Jess & Julia" - Nick panics when Julia (Lizzy Caplan) doesn't want to put a label on their relationship, while Jess enlists Julia to help her get out of a traffic ticket..  FOX, 9:00 - 9:30pm, ET
Raising Hope - "Gambling Again" - Burt relapses into gambling to win back lost posessions, but when Jimmy and Virginia intervene they develop an addiction of their own  FOX, 9:30 - 10:00pm, ET
Justified - "Harlan Roulette" - Raylan's face-off with a tyrannical Oxy dealer (The Walking Dead's Pruitt Taylor Vince) puts him on a collision course with the new head of the Dixie Mafia; Boyd fights to take back part of his family's empire, but his methods threaten to tear his crew apart.  FX, 10:00 - 11:00pm, ET
Southland - "Community" - A gang war erupts when Sammy leaves a territory unattended on Hood Day, while Cooper and Tang investigate a robbery.  TNT, 10:00 - 11:00pm, ET
Tosh.0 - "How to Get European Men" - Its fourth season premiere, Daniel addresses the search for his replacement and explains how to meet European Men.  Comedy Central, 10:00 - 10:30pm, ET
Key & Peele - "Pilot" - Its series premiere, Keegan-Michael Key and Jordan Peele unveil their new sketch comedy show comprised of taped, and live segments.  Comedy Central , 10:30 - 11:00pm, ET
What will YOU be watching?