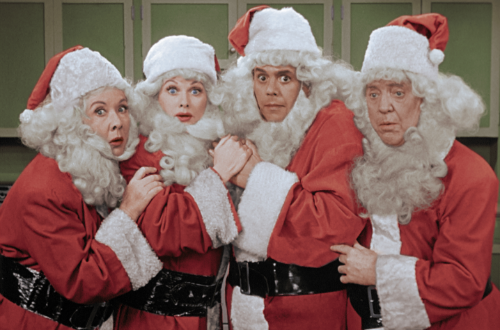 Classic holiday music. Decorating the tree. Baking cookies. Wrapping gifts. Visiting Family.
These are just a few of the traditions many families embrace during the holiday season. Another one? Watching TV holiday specials (like these) with friends and family.
Well, this year 'I Love Lucy' fans, and those that love old classic sitcoms, are in for quite the treat. The hit comedy, starring Lucille Ball (Lucy), Desi Arnaz (Ricky), Vivian Vance (Ethel) and William Frawley (Fred), will be back on CBS for one special night. Why? To air its special 'I Love Lucy Christmas Special' that includes the colorized versions (yes, no black and white here, folks) of the "Christmas Episode" and "Lucy's Italian Movie."
Fans, and those watching 'Lucy' for the first time (seriously, have you been living under a rock?), will get to enjoy the seldom-seen "Christmas Episode," which originally aired in December 1956. The episode was thought to be lost, but, thankfully, CBS rediscovered it in 1989. One of the more popular 'Lucy' episodes, where she stomps grapes and wants to become an Italian movie actress, will also air immediately following the holiday episode.
Luckily, I was able to watch both colorized versions prior to this Friday's airdate, and it was one of the most joyous occasions of my life. Okay, I might be exaggerating a little (or, am I?), but I seriously can't get enough of 'I Love Lucy' and Lucille Ball. What's not to love?
After growing up watching the comedy (yes, I wasn't born in the '50s, but I was raised on the comedy), it's strange seeing Lucy, Ricky, Fred and Ethel prancing around the Ricardos small New York apartment in color, however, it was refreshing to watch the show in a different way and to see what their life was like in color. Furthermore, as someone who's never seen the Christmas episode (I was shocked to learn I hadn't seen EVERY 'Lucy' episode, but now I can go back to bragging that I have), I enjoyed watching the gang decorate their tree and prepare the magical season for Little Ricky.
I might be a little biased about the episodes, well, because I've been obsessed and enjoyed 'Lucy' my entire life, but this is one special not to be missed. After all, I did learn that back in the day you could purchase a tree for $5. What?! Oh, and for those who didn't know, Lucy, Ricky, Fred and Ethel teach the audience that "trimming the tree" means decorating, not actual trimming (though there is some -- well, a lot -- of that too).
Besides Lucy's bright red hair, I always wondered what Lucy and Ricky's apartment looked like in color. Well, all of those questions have been answered, thanks to this festive special. The one-hour special feature is not only a great way to enjoy the holidays, but to also get your fill of the hilariously talented legend that is Lucille Ball.
The 'I Love Lucy Christmas Special' airs Friday, Dec. 20 at 8/7c on CBS.