Hello all! Chances are if you're reading this it means you, much like myself, are addicted to TV. You just can't ever get enough of that small screen action! Well, I'm here to tell you that I feel your pain and would like to help you in your noble quest for TV knowledge, which is why I've taken it upon myself to create this fun, weekly feature. Every week, I will dig up new and interesting facts about a show and share them with you right here. So sit back, relax, and let the trivia madness commence!
For this week, I thought it would be fun to delve a bit into the twisted psyche of 'American Horror Story.' In light of the holidays, we'll be forced to go without our usual helping of horror for the next few weeks, leaving everyone at risk of 'AHS' withdrawal (a very serious condition, so I've heard). Plus, there's really no better way to get into the Christmas spirit, is there? And while it seems impossible to even try and comprehend the madness that embodies this rather unique series, there are a few interesting tidbits I managed to dig up. Such as…
Did You Know:
1. In order to keep the plot under wraps, most cast members don't receive the entire script, but rather just their specific scenes.
It makes sense, really. I mean, if I was a part of this show, I'm sure I'd have a hard time keeping what I knew a secret — especially from my therapist who I'm sure I'd have to see on a regular basis due to all the nightmares.
2. 'American Horror Story' and 'Glee' are actually helmed by the same person.
Though these two shows couldn't be further apart in terms of mood and genre, they do actually have one very big thing in common — the same creator: Ryan Murphy. Some of you may already be aware of this fact, but it's still just so mind-boggling for me to think about. The guy's got quite a range, wouldn't ya say? I'm not sure whether to be incredibly impressed or just plain terrified. (Probably a little bit of both.)
3. Evan Peters auditioned to play Peeta in 'The Hunger Games' trilogy.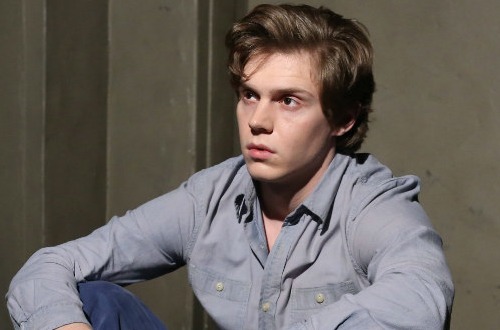 And given everything he's had to do on this show — from playing a murderous ghost to an alien-abducted asylum patient (not to mention FrankenKyle) — participating in an annual fight-to-the-death match would probably be a piece of cake for Peters. He didn't end up getting the job, but it's probably for the best considering it allowed him to be available for all three seasons of 'AHS,' so far. Plus, he'll still get his chance to co-star alongside Jennifer Lawrence in May 2014 during the film 'X-Men: Days of Future Past,' where he'll play the silver-haired mutant Quicksilver.
4. The 'Murder House' featured in Season 1 is called Rosenheim Mansion.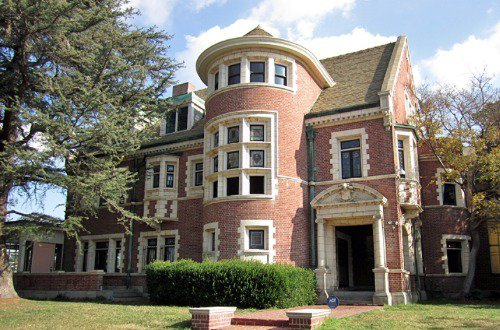 Sure, that by itself isn't all that exciting…until you add the fact that scenes from 'Buffy the Vampire Slayer' were also filmed here. It was used as the Frat House location during the show's 1997 Halloween special 'Fear, Itself,' in which the characters' fears manifested themselves. That sounds pretty accurate…though now I'm super disappointed that some sort of Buffy ghost didn't make an appearance during the season.
5. Chris Zylka was originally supposed to have a two-episode guest spot in 'Asylum.'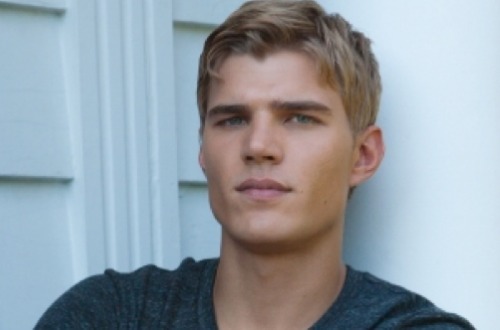 The actor was scheduled to play a deaf, mute patient, however, the role was eliminated after he declined to shave his head for the part.
6. Evan Peters and Emma Roberts are dating in real life.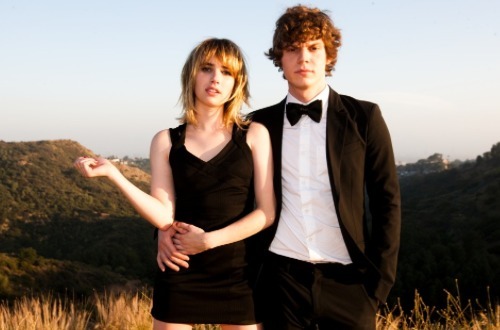 On the show, his character FrankenKyle may prefer the company of Zoe, but in reality he and Madison (Roberts) are quite the hot item, having been together since 2012.
7. Jessica Lange was only supposed to be a supporting character in the series.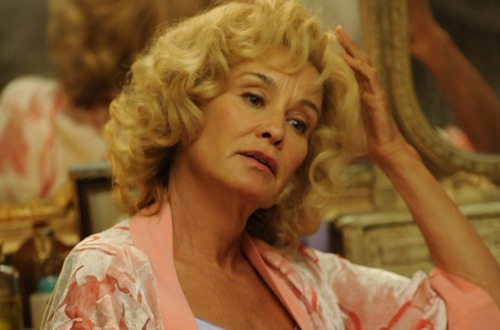 Though she's now thought of as the grand dame of the show, that wasn't initially the case. However, after producers saw her exceptional talent, they decided to expand her character during the first season and make her the starring role in the following seasons. A wise decision if there ever was one.
8. Bloody Face and Lana Winters are close friends in real life.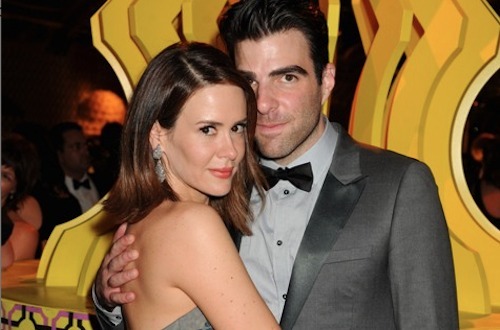 You wouldn't think given their seriously twisted history in 'Asylum' that these two would want anything to do with each other, but Zachary Quinto and Sarah Paulson were already friends before arriving on the set of 'AHS' and their friendship only deepened throughout filming.
9. Scores from famous horror films have been used on the series.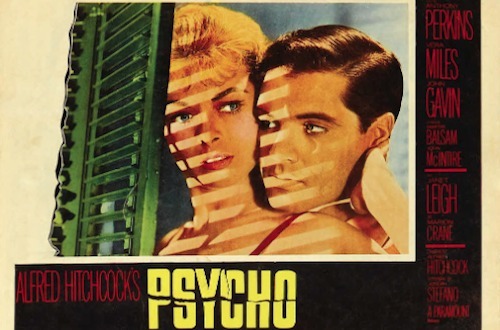 Ryan Murphy has always admitted to pulling from different iconic horror films for inspiration and apparently the background music for the show is no exception. Some of these pieces include excerpts from 'Psycho' and 'Bram Stoker's Dracula,' as well as 'What Lies Beneath' and 'Insidious.' So the next time you're watching (or re-watching) the series, pay close attention and see if you can recognize any of the popular eerie tracks.
10. This is what Pepper actually looks like: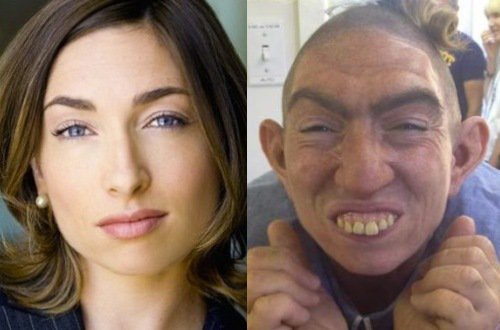 Behold the power of a makeup team. According to the actress, Naomi Grossman, it took a total of three hours in the makeup chair and special contacts to transform her into this character. She even shaved her head for the role to make it more realistic. And boy did it work. So much so that she got kicked off set one time by security when she wasn't in costume since the difference was so drastic they didn't recognize her.
11. Ryan Murphy had originally planned a slightly different ending for 'Asylum.'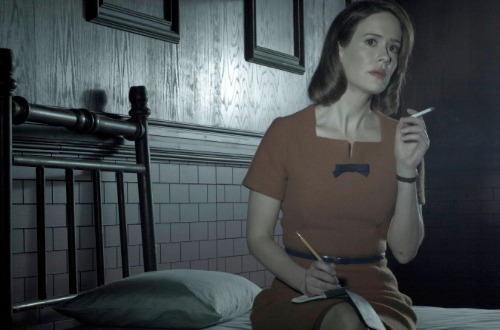 Murphy has previously stated that he'd originally thought the season would conclude with Lana Winters (Sarah Paulson) going into the sanitarium and shutting it down. However, when they decided to make Lana become pregnant, they altered the ending.
12. Jessica Lange is the brain behind 'The Name Game' sequence.
After becoming a patient in the asylum herself, Lange's role was pretty dark and depressing. So the actress asked Ryan Murphy if he could incorporate something to call back to her days as a lounge singer as a way to take a break from all the misery. And viola! 'The Name Game' was born, which is pretty much the greatest thing ever. Now if you'll excuse me, I have to go watch this on repeat all day.
I hope you enjoyed this week's installment of Facts From a TV Junkie. Check back next week for another fix!
'Friends' < Previous | Next > Stay tuned!