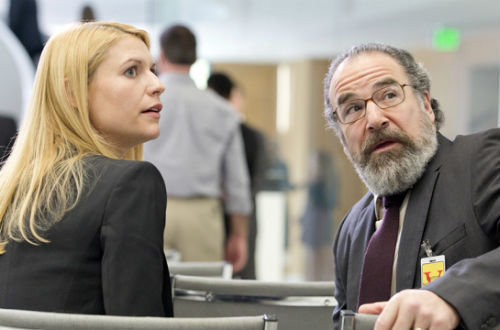 In addition to all of the other news we've been reporting today, here are a few entertainment and TV headlines you might have missed:
-According to The Hollywood Reporter, Telma Hopkins ('Family Matters,' 'Are We There Yet?') has joined FX's Martin Lawrence-Kelsey Grammer comedy 'Braddock & Jackson' as Ruth Jackson, the mother of Lawrence's character.
-Last night's 'Homeland' and 'Masters of Sex' Season 3 and Season 1 finales, respectively, ended on a series high. 'Homeland' pulled in 2.4 million viewers, while 'Masters' gained 1.2 million.
-As first reported by Deadline, Rosie Perez has scored a role in ABC's pilot 'An American Education,' where she'll play Rita Gomez, a "hard-assed" vice principal. Deadline also learned that Dominic Adams will appear as a regular in next season of Lifetime's 'Devious Maids.' Adams will portray Tony, "a dark, handsome and athletic bodyguard/chauffeur who is ex-Special Forces."
-Ed Burns' TNT pilot, 'Public Morals,' has cast Wass Stevens ('House of Cards') as Vince Latucci, The Hollywood Reporter exclusively reports. Described as looking "more like a wise guy than a cop," Latucci is tough, mean and someone who was born and raised on the streets of Little Italy.
-Amy Gumenick ('Supernatural') has snagged a role in AMC's 'Turn,' where she'll play the recurring character of Philomena, someone with a soft spot for British Spymaster John Andre (JJ Feild). She'll also conduct undercover work for him.