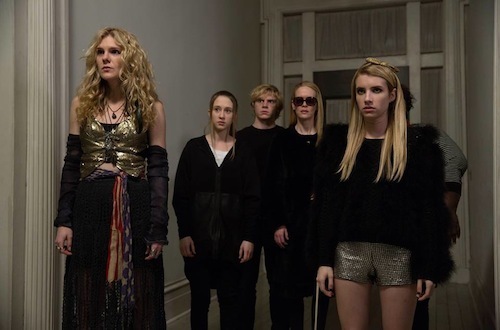 Hold onto your broomsticks, folks, because this week's episode of 'American Horror Story: Coven' is a bewitching roller coaster ride of murder and mayhem. Of course, we really shouldn't be that surprised given the show's history of insane plot twists, however, this one is quite the doozy even by this series' abnormal standards. But hey, that's what happens when you're just one episode away from the grand finale. Two words: Brace yourselves!
I was lucky enough to watch an early viewing of "Go to Hell" and — like many people on this series — am just DYING to pass around a few hints in regards to what's coming. But if you'd much rather pull a Cordelia and go in completely blind, then I suggest you look away while you still can. As for the rest of you, let's dig into all the diabolical details below!
-Papa Legba pays a visit to another member of the coven and forges a brand new deal, which results in not one, but TWO deaths.
-Delphine trades in her maid position for a brand new job that's right up her alley. She also finally gets that makeover she'd originally been promised.
-Fans will discover what actually ended up happening to Marie after her little tumble down the stairs. Let's just say she gets a taste of her own medicine.
-Cordelia gets a glimpse of Fiona's end game and turns to an unlikely person for help. The results are quite deadly.
-Delphine explains why exactly she cried on the day of Hank's attack — and it's not for the reason you'd think.
-As three characters return, another three lose their lives. Also, a catfight ensues!
Like I said, there's a lot that goes down in this episode, so be sure to tune in!
'American Horror Story: Coven' airs Wednesdays at 10/9c on FX.