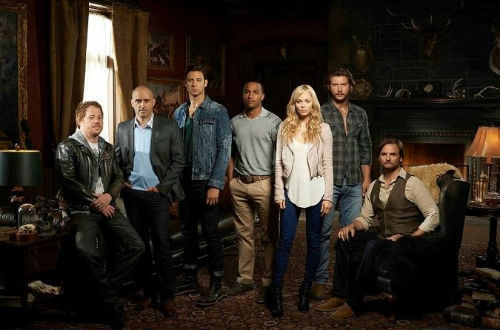 In addition to all of the other news we've been reporting, here are a few entertainment and TV headlines you might have missed:
-Syfy is changing up its Monday line-up. New drama 'Bitten' will now air Mondays at 8/7c, effective immediately. 'Lost Girl' returns to its 10 o'clock spot, while 'Being Human' will continue to air at 9/8c.
-ABC's 'Revenge' is welcoming a new roommate for Nolan and love interest for Charlotte, TV Guide reports. Henri Esteve is joining the thrilling drama as Javier, who is "from the wrong side of the tracks and accomplished in the world of hacking." Not only will he move in with Nolan, but he'll also make eyes at Charlotte.
-In case you missed it, 'Hostages' actor Tate Donovan is joining '24: Live Another Day.' He is set to play Audrey's (Kim Raver) husband, White House Chief of Staff Mark Boudreau. He's described as an "astute and strong-willed political advisor who is wed to First Daughter Audrey [James Heller is now President of the U.S.]." The event series premieres Monday, May 5 on FOX.
-Not only is Jaimie Alexander heading to 'Marvel's Agents of S.H.I.E.L.D.,' but she is also joining Ryan Murphy's HBO pilot 'Open' as a series regular, Deadline reports. She is set to play Claire, "the postpartum-suffering, pill-popping Stepford wife of Evan (Wes Bentley)."
-Adrianne Palicki ('Friday Night Lights') is heading to NBC's new comedy 'About a Boy,' according to The Hollywood Reporter. Palicki will portray Dr. Samantha Lake, a love interest for David Walton's Will. She'll appear in a seven-episode arc.