His character may have met an untimely demise on 'The Walking Dead,' but IronE Singleton has never felt more alive.
Love, dedication, and inspiration consume Singleton's life, having prevailed despite a terrible and tragic childhood to live a life of happiness. The actor brought his enthusiasm and positive message to Toronto for ComiCon, greeting a crowded room with a boisterous cheer, later sharing his thoughts on positivity as well as entertaining moments from the hit show.
"I think it's a great critique of society and what were going through," Singleton said of the AMC series, now nearing the end of its fourth season. "It's so important to have hope. If you don't have hope, what's the use in living? [Without hope], it's easier for individuals to disrespect others, and we lose grasp of the big picture."
"We are survivors. If we have just a little bit of hope, it can always be replenished by any little thing."
Singleton knows about hope firsthand. When he was 18, he lost his mother to complications related to HIV. She was a crack addict and alcoholic, while IronE's father only made two appearances in his life. His brother, meanwhile, was in and out of jail, and eventually, after running the streets, IronE chose a path that led him down a safe, brighter, and happier future.
"I was determined to make my mother's life mean something. I asked, 'how can I make sure she didn't die in vain?' The best way to do that is to do something with my life, that's my mission."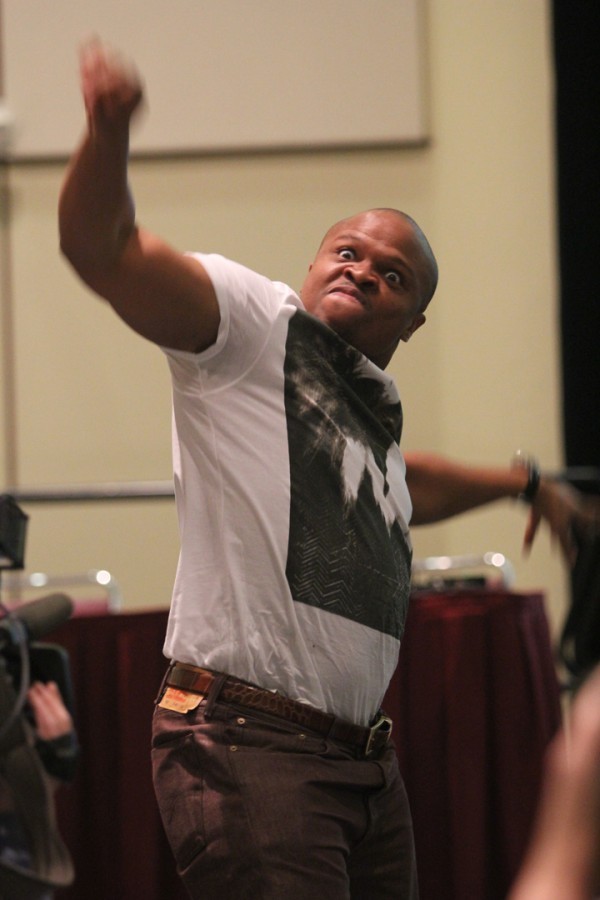 A pair of roles, one in the popular film 'The Blindside' and the other as T-Dog on 'The Walking Dead,' helped Singleton move closer to those goals – for him, he explained, acting is the vehicle for his mission.
"To be a part of the biggest show, I just looked at it as a blessing," he explained. Of course, however, his exit was tough. Like so many characters on the zombie show, T-Dog succumbed to a vicious world inhabited by zombies among other hazards, and died off during Season 3. Singleton joked about playing phone with then showrunner Glen Mazzara, knowing exactly what was coming.
"It was bittersweet though," he said. "When I got the job, they said I would work two, maybe three episodes, and it turned into three seasons – how amazing."
Singleton recalled times both intimate and ridiculous on set. In a scene he shared with Jeffrey Munn, he remembered chatting about family and fatherhood with the acting, seeing Munn as a man he could look up to.
An afternoon with Norman Reedus, however, was noteworthy for other reasons. "We were shooting the well-walker scene," said Singleton of a particular memorable moment in Season 2. "That walker was nasty. And that morning, when I was on the bus with Reedus on the way to the set, I was eating some sausage." Singleton paused: "Now, it wasn't the prettiest sausage, but it was good. Reedus got on and the first thing he said to me was, 'What's that? It looks like poop.'"
Singleton and the audience laughed together as the actor continued his story. "So later, I had visions of this nasty walker and eating poop and I just kept gagging. Our director, he comes over and says, 'that's pretty good, but try without the gagging.' I just couldn't help myself."
Having grown up in Atlanta where 'The Walking Dead' is filmed, Singleton was especially close with the cast and crew, and still has a strong fondness for the series.
"'The Walking Dead' is the best show on television," he declared unabashedly. "It's my favorite show, I still watch to this day. And I'm not biased, I'm rooting for everybody [to survive], especially everybody that was there when I was there."
As a viewer now, Singleton can relate to all the nerves and excitement that goes into watching a show where one's favorite character may be killed at any moment. "There are so many [characters] popping up because so many are dying," he said, chuckling. "The ones that were there when I was there and I bonded with, I'm particularly rooting for them."
"The others," Singleton added, pausing, contemplating, and then sort of shrugging his shoulders, "I hope they survive too."