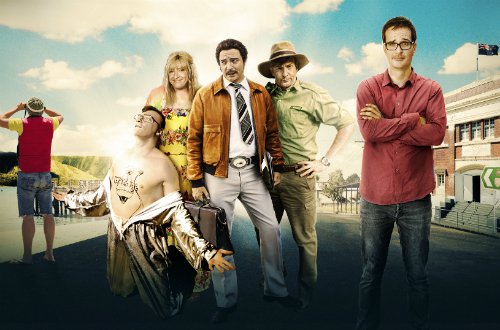 Best known internationally for his portrayal of a disillusioned band manager on the HBO comedy 'Flight of the Conchords,' and especially well-known in his native land of New Zealand, Rhys Darby is back with a new show. And he can be seen everywhere in it.
Darby, who recently turned 40 (and was treated to a surprise party complete with a wicked 'Indiana Jones' cake), is the creator and star of the 'Short Poppies,' a mockumentary series set to drop on Netflix April 3. The eight-episode first season will feature Darby in not one, but seven different roles, as he assumes the likes of various not-so-ordinary New Zealanders whose lives become the focus of a documentary series.
Darby spoke on the phone ahead of the premiere of 'Short Poppies' from Los Angeles, chatting about improvisation, Kiwi comedy, and a colorful cast of characters coming soon to TV.
TVRage: When did you first have the idea for the show in mind, and how did it come to creation?
Rhys Darby: I had this idea quite a while ago. I knew pretty much after 'Flight of the Conchords,' that when I got around to it, the first show I was going to make would be me portraying a different character every week. They were going to be interviewed by a reporter and we would spend the day in the life of different people. At that point, I had two characters in my head, and over the next few years I worked out creating who those other characters were going to be, and when I felt I had enough, I got the show made.
For me it harks back to an early show we had in New Zealand called 'Country Calendar,' which was a nice, family documentary. It's still running, actually (since 1966), but it's one of these shows you have in your own country that you watch with your parents. It's a day in the life of ordinary country folks, and the reporter would ask questions about their lives. It was very boring (laughs), but somehow comforting.
I said I'm going to do a mockumentary version of this and show characters that will be anything but boring, ordinary folk. It was also an excuse for me to play lots of different characters and to improvise, which is another reason to do it.
I got a reporter – an actual reporter – and told him there is a script, but you can ask me any questions you want, and I'm just going to say anything I want and you try to keep a straight face.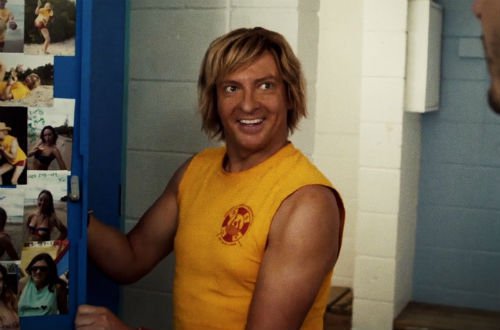 TVRage: That would be David Farrier, playing himself. I was wondering how much of it is natural and improvised and you trying to throw him off. Why does that style appeal to you?
Darby: For me, it just allowed the best possibility opportunity for comedy; I wanted it to be real. I feel the juxtaposition between absolute reality and the ridiculous, putting those two together, gives you the comedy gold.
When you look back at 'Conchords,' we tried to make it look as real as possibly. We improvised a lot, we believed in what we were talking about; there was not a set up or punch line, but the subject matter and dialogue was absurd. So when you mix those two together, for some reason that makes a great comedy.
So each episode was to stand alone. There was a narrative, so there was certainly scripted work involved, but on the day, I could go off and there was weird stuff that would happen and we can go with.
[Farrier] knows me, so he was used to the stupid things I said, but also we made sure to shot him off camera (laughs).
TVRage: That works well – how did he fare?
Darby:  Well it's also his first acting job, so a guy who is a journalist, he had certain lines he had to say and play a fictionalized version of himself.
In one episode play I a single mother who comes on to him. We're having this emotional moment where I don't want him to leave, and -- I didn't know I was going to do this – I tell him I don't want to you to leave, and he had to go with it. You got this real person who has lived in this situation and having to act and he did a great job. It turned out really well.
TVRage: Who exactly are these characters? Are they stereotypes or people you knew? Are they extensions of you?
Darby: I completely created them out of nothing; they are all facets of me or extensions of me.
One of them is a park ranger. My brother is a ranger and I always wanted to be one as a kid. He was the first one I created a while ago and I did a few live performances with him, so I know how he ticks.
The second one is a ufologist, a very meek and nerdy guy who believes in UFOs and aliens. That's another facet to me and my imagination.
There are two women I play: an older one in the mid-'60s loosely based on everyone in my generation's mother. You know, a little bit racist, thinks she's a little bit posh when she's not, but she means well.
The other one is a younger lady, real artsy fartsy girl.
There is also whale watcher. He's a young boy who's set up his own business, but he has only seen one whale. He's just a guy who hasn't really got a clue; rides a BMX and works at a fish and chips shop, and that's sort of my youth.
I just used my imagination. They're not really based on any particular people, just an amalgamation of my hopes and dreams as a kid.
TVRage: How different are the comedic sensibilities between North America and New Zealand? And to what extent is this show particularly from a New Zealand perspective?
Darby: The show is very New Zealand. What I learned and was surprised with doing 'Conchords', is that there is a real fascination with the novelty that is New Zealand and what makes us tick and how we talk and that we're a little bit different and slightly off. I just found there was a real laugh factor.
But as Kiwis, one of our, I guess positive skills, is we really enjoy laughing at ourselves as well. We were worried going home that we made sort of New Zealand look as a naïve nation, living in the '70s.
We got home and the country was sort of celebrating that. Part of it was that we were on HBO and were making people laugh. I wanted to explore that further. If you love Murray and what he brought to the tablet, then you will love these other characters.
I also wanted to prove that I could do more than just Murray. And could I come up with a funnier character than Murray? I feel like one or two, maybe more than one, will get more laughs.  But he is hard to beat.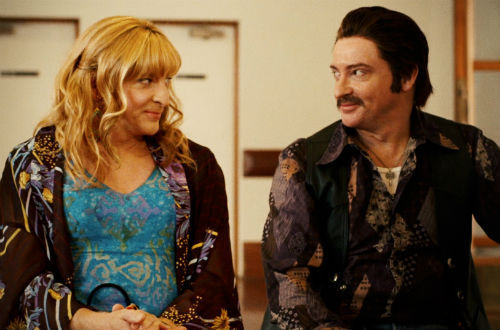 TVRage: Which character of the seven is the most fun to play? Which is your favorite?
Darby: I probably have two faves. One would be a character called Rob Gainer, a local lawyer and muscle-power enthusiast. He is very much the guy who's really into practical joking and a real laugh, he basically hangs out with his boy mates and they like to have a good time all the time. He reminds me of some guys back home who are just *on* the entire time, almost to the point of being annoying. I found him really fun to do.
The other one is a lifeguard, he's in the first episode, and he's really into his legs. He's got these sexy legs and he enters into a 'sexy legs' competition every year. He's' very much into his positive energy, he's got these weird moves he does to get rid of anything negative.
Of course the ranger who I've had in my head for the longest, he is the easiest for me to play; he's the guy I wish I was. He can do anything, he's quite manly. He'll rescue people, build a raft. The only thing that's stopping him is that he doesn't quite have the intellect. But you know, he would say the day by accident.
TVRage: Initially it sounded, reading the synopsis and seeing a short clip, that these are people that might be lampooned. Listening to you though, you're speaking of them with almost affection. Is that a fair assessment?
Darby: None of it is mean, there are no qualities there where I'm lampooning  -- maybe the lifeguard a little, he's a bit self obsessed. I don't think anyone would be offended. I'm not about offending anyone. I think comedy goes hand in hand with empathy.
It's in my heart, that's where I get results. After making 'Conchords,' one of things I loved is that you got young and old parents that would watch the show with their teens and twenty-something kids; that's a great thing. It's cool enough for their kids to watch, but not so rude that families can't watch.
TVRage: In the short clip available online, Stephen Merchant pops up as a doctor. Are there any other notable actors that make appearances that you can mention?
Darby: Yes, Stephen, he shows up, and there are also some other big names. Sam Neill ('Jurassic Park'), and Bear Grylls ('Man vs. Wild'), another one of my heroes. And Karl Urban ('Almost Human,' 'Star Trek'), he pops up as well. My wife cast the show, and we just thought let's just get who we really want and we just put the question out there, and for some reason or another, they came to play with me.
I'm just really stoked the whole world gets to see this.
--
'Short Poppies' will be released on Netflix on Thursday, April 3.