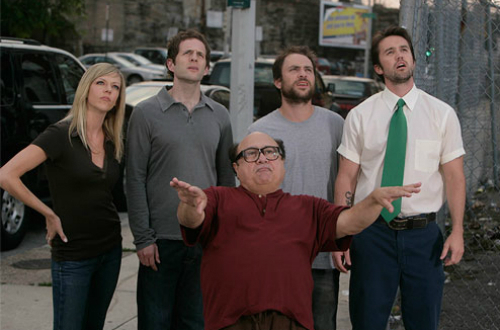 While always having one of the longest titles on television, 'It's Always Sunny in Phialdelphia' is about to set a more significant and definitive mark, becoming the longest-running, live-action comedy in cable TV history.
FX Productions announced today that the dark, offbeat comedy has been renewed for two more seasons. The network inked a three-year overall production deal with creators Rob McElhenney, Charlie Day, and Glenn Howerton, all of whom also star in the show and will now have some other projects on their docket as well.
The two added seasons will be the 11th and 12th of the series, which also stars Danny DeVito and Kaitlin Olson.
Part of the deal includes an order for a new straight-to-series, half-hour comedy by the trio of writers, as well as Luvh Rakhe, starring Tracy Morgan. The untitled project is a separate entity than the previously anticipated project, 'Death Pact,' the '30 Rock' alum was set to star in. That show has been canned, but the new one looks to air in January alongside the 10th season of 'Always Sunny.'
On top of all that, the deal includes a yet-to-be announced comedy pilot order, and the pickup of three scripts. The first is 'Harder,' written by 'Sunny' EP Scott Marder and Howerton. The second is 'We're Good, Thanks,' written by 'Sunny' actress Mary Elizabeth Ellis, Artemis Pebdani, and Day. The final is 'Blow Up Dolls,' written and starring Sarah Solemani.
Of all this means that a lot of comedies will be competing for a place on the lineup of FX or its sibling station, FXX; there are six others in contention now, including pilots from Denis Leary, Zach Galifanakis, Charlie Kaufman, and Seth Rogen. It also means that the folks from 'Sunny' have a lot of work ahead of them.