It's been a long and strange journey, but the Save Greendale Committee has lived up to its namesake after 13 episodes and a tumultuous fifth season.
'Community' caps off a year of great shift in rather remarkable fashion by dealing with the murky past, struggling with the ever changing present, and hoping for a future. You don't need a moment's pause either to bear witness the regard given to the very first episode.
To recap this year: Pierce's story had to be closed out without Chevy Chase ever really appearing (save for a brief moment in the premiere); Troy left after five episodes; Professor Hickey was introduced; Professor Duncan was brought back in a recurring role; a bunch of noteworthy guest stars, including showrunners Mitch Hurwitz and Vince Gilligan, had to be figured into small parts.
Also, we had a second Dungeons and Dragons episode, and a second someone-is-having-an-animated-nervous-breakdown episode, and a few more sprawling conceptual pieces. Through it all, returning showrunner Dan Harmon had to address a lackluster and oft-embarrassing Season 4, an event that was consistently referred to as a "gas leak" and funny each and every time.
Even the first part of the finale, Abed jokes about the lack of anything happening at Greendale was "The most boring thing that's happened here until Britta dated Troy," jabbing at the lost year maybe one last time.
So there has been a lot with which to navigate, and while not everyone made it to the end (come back, Troy?), Harmon and company pulled off such a challenge of storytelling with a two-part finale that is still funny, self-referential, full of meaning, and true to itself. It organizes and places not just the previous chaotic 11 episodes, but the four seasons that preceded it.
We left off with Greendale in trouble; but really, it has always been in a perpetual state of trouble. And thank goodness for that, because as Abed pointed out last week, without conflict, there is no story – and without a story, there is no show.
While Harmon has been more than happy to mock at the network, (again, the gas leak), here he presents a lengthy metaphor. A meddling and money-hungry corporation threatens to take over Greendale, and if not completely to destroy it, then change it into some bastardized version of its former self that is beyond recognition.
(It's still less direct and antagonistic than showrunner Aaron Sorkin having a character say at the unceremonious conclusion of his canceled 'Sports Night,' "if you can't make money off 'Sports Night,' you should get out of the money-making business.")
Abed in typical Abed-fashion stands back and observes. Some people "can't accept it is over," he remarks to Annie, who is the most human character in this episode (well, and Dean Pelton. He really does love Greendale; cut to him crying in underpants then jumping for joy at buried treasure).
Jeff and Britta, who were, as we're reminded, the impetus for the start of the study group, are freaking out that without Greendale, they will have nothing. So they decide to get married, and keep insisting that they will do so as the finale, titled "Basic Sandwich," progresses. They would rather escape into something somewhat familiar to cope with the end of a world to which they've grown so attached.
Shirley meanwhile continues to play to more or less the opposite of Abed. While he embraces that life at Greendale is a TV show, Shirley still enjoys the escapades, but is always there to remind everyone she has a life outside this world and is more adjusted than most. "I have three kids!"
Then there is Annie. Maybe probably still in love with Jeff, attached to a school where she has reformed and reinvented herself, and not ready to give up on anything or anyone in her life. While Jeff later has his heartfelt moment, it's Annie that gives the inspired speeches now.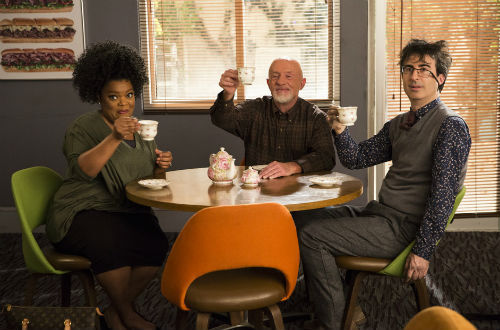 So, for different reasons, the group embarks on a buried treasure quest that was teased at the end of "Basic Story." Traveling to the depths of Greendale, while allowing for some of the funnier Duncan moments of the year, the crew meets with former Greendale Dean Russell Borchert (a mostly indistinguishable Chris Elliott) who has been hiding away for decades with his robot girlfriend. It's an encounter that, among other things, allows Abed to admit a pop culture blind spot while still catching up Borchert on some key milestones.
Borchert offers a chance for the study group, er, Save Greendale Committee, to save Greendale, at least momentarily. Just as Chang is always lying, cheating, and backstabbing (something the group and audience is now indifferent towards), there looks to always be problems at Greendale.
"Basic Sandwich" is an ending and a beginning. Sadly the reality for 'Community' fans is that this could in fact be it. Maybe it's renewed by NBC, maybe it goes to Netflix, or maybe it's over. We don't know, and neither does Harmon, though he (as well as Abed) is certainly insistent there is more to come. It's fitting, and if only we could be as confident as Abed; he may not trust the network, but he trusts the writing god(s).
There is closure, though. Jeff and Britta, by mere admission that the study group was started so that he could sleep with her, and that (maybe) they should get married means they are going to be OK, regardless of what impetuous messes they are getting into. They will simply "spin-off into something safer."
Troy is off in search of his dreams, Annie has matured even if she isn't ready to give up on Greendale, and Abed, well, we all know that when it's time to turn out the lights, he will be the most prepared to do what needs to be done. We don't want an "hour-long episode of 'The Office'" he jokes – 'Community' isn't about satisfying the programmed, easy, or convenient needs of the viewer for the sake of the characters.
But we also don't want to keep hurting them or see them stuck. So maybe one more season and we can all be content. One more season, and a movie.
--
Season 5 of 'Community' concludes tonight at 8/7c on NBC.