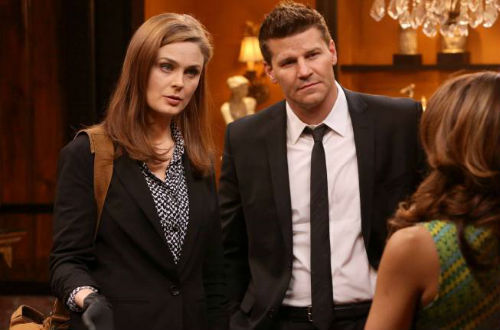 Last month, FOX unveiled its spring finale and summer premiere dates, but now the network is announcing a schedule change. Both the 'Bones' finale and the 'Masterchef' premiere will air at later dates in May.
Originally, the Season 9 finale of 'Bones,' starring Emily Deschanel and David Boreanaz, was to air on Monday, May 12 at 8/7c. As for 'Masterchef,' with Gordon Ramsay, it was set for a Season 5 debut on Monday, May 19 at 8/7c.
Now, the 'Bones' final season episode will air on Monday, May 19 at 8/7c, with the 'Masterchef' fifth season premiere getting bumped to Monday, May 26 at 8/7c.
Here's an updated list, including spring finales and summer premieres:
MONDAY, APRIL 28
8 p.m. - 'Bones' (Encore Episode)
9 p.m. - 'The Following' (Season Finale)
MONDAY, MAY 5
8 p.m. - '24: Live Another Day' (Two-Hour Series Premiere)
TUESDAY, MAY 6
9 p.m. - 'New Girl' (Season Finale)
9:30 p.m. - 'The Mindy Project' (Season Finale)
MONDAY, MAY 12
8 p.m. - 'Bones' (New Episode)
9 p.m. - '24: Live Another Day' (Time Period Premiere)
TUESDAY, MAY 13
8 p.m. - 'Glee' (Season Finale)
9 p.m. - 'Riot' (Series Premiere)
THURSDAY, MAY 15
9:30 p.m. - 'Surviving Jack' (Season Finale)
SUNDAY, MAY 18
7 p.m. - 'Bob's Burgers' (Season Finale)
7:30 p.m. - 'American Dad' (Season Finale)
8 p.m. - 'The Simpsons' (Season Finale)
8:30 p.m. - 'Family Guy' (Season Finale)
MONDAY, MAY 19
8 p.m. - 'Bones' (Season Finale)
TUESDAY, MAY 20
8 p.m. - 'American Idol' (Season Finale, Part 1)
WEDNESDAY, MAY 21
8 p.m. - 'American Idol' (Season Finale, Part 2)
THURSDAY, MAY 22
9 p.m. - 'Gang Related' (Series Premiere)
SATURDAY, MAY 24
7 p.m. ET (Live) - 'FOX Sports Saturday: Baseball Night in America' (Premiere)
MONDAY, MAY 26
8 p.m. - 'Masterchef' (Season Premiere)
TUESDAY, MAY 27
8 p.m. - 'I Wanna Marry "Harry"' (Series Premiere)
WEDNESDAY, MAY 28
8 p.m. - 'So You Think You Can Dance' (Season Premiere)
SUNDAY, JUNE 8
9 p.m. - 'Cosmos' (Season Finale)
MONDAY, JULY 21
9 p.m. - 'Hotel Hell' (Season Premiere)