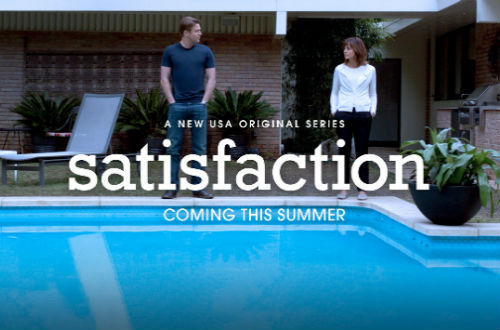 With the sun shining, the weather warming up and the snow finally melting away, it's time for summer. And, with summer comes USA's summer shows! Today, the network unveiled its summer premiere dates for returning favorites and two new dramas, in addition to a brand new trailer for a steamy drama starring 'The Glades' Matt Passmore.
USA's returning favorites include 'Royal Pains,' 'Suits,' 'Graceland' and 'Covert Affairs.' As for the new shows, the medical drama 'Rush,' starring Tom Ellis, will debut this July, along with 'Satisfaction,' featuring Passmore.
'Satisfaction' revolves around Passmore's Neil Truman (an investment banker), his wife Grace (Stephanie Szostak) and their marriage, which is taking a turn for the worse after Neil discovers his wife is seeing a male escort. It's a modern take on marriage at its midpoint and tries to answer the question, "What do you do when having it all is not enough?" As you can see from the 30-second promo below, the show is definitely venturing into the sexier side of a USA drama, all while focusing on an unhappy marriage.
Finally, here's the full summer premiere schedule:
TUESDAY, JUNE 10
9 p.m. 'Royal Pains' Season 6
WEDNESDAY, JUNE 11
9 p.m. 'Suits' Season 4
10 p.m. 'Graceland' Season 2
TUESDAY, JUNE 24
10 p.m. 'Covert Affairs' Season 5
THURSDAY, JULY 17
9 p.m. 'Rush' (New Series)
10 p.m. 'Satisfaction' (New Series)