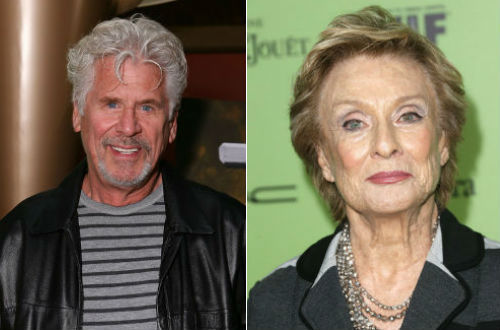 In addition to all of the other news we've been reporting, here are a few entertainment and TV headlines you might have missed:
-TNT's 'Franklin & Bash' is welcoming two familiar TV faces. Cloris Leachman ('Raising Hope') and Barry Bostwick ('Scandal') will guest star in the fourth season, TVLine reports. Leachman  will play Irina Lottye Kruskal, "a frightening gypsy with pertinent knowledge of an allegedly haunted house." As for Bostwick, he'll appear as Jake "Falcon" Reilly, who likes his alcohol and lives in a retirement community. He'd like to adopt his late girlfriend's grandson, however the grandson is a full-grown adult.
RELATED NEWS: 'Franklin & Bash' Casts 'Dexter' Alum James Remar as Guest Star
-'Mom's upcoming second season will see more of Mimi Kennedy, as she's just been upped to a series regular, The Hollywood Reporter has learned. Kennedy's recurred as Marjorie, enemy-turned-friend to Allison Janney's Bonnie. Eventually, she also came in contact with Christy (Anna Faris) at AA. If that isn't enough, the show used Kennedy's character to bring humor to a serious issue when Marjorie was diagnosed with breast cancer.
-ABC Family's new comedy 'Young & Hungry' will see Ashley Tisdale pop up as a guest star, E! Online reports. In an early episode, she'll play Logan, a magazine editor who "breathes style and cool." Tisdale is also one of the executive producers of the series.
-FOX is developing an event series about Jesus' formative years titled 'Nazareth.' David Franzoni, who won an Oscar for 'Gladiator,' will write the script and exec-produce the series.
-Two more talents will recur in Season 4 of HBO's hit comedy 'Girls.' Desiree Akhavan ('Appropriate Behavior') and Peter Mark Kendall ('The Leftovers,' 'Public Morals') will play fellow students of Hannah's in her writing program.
RELATED NEWS: USA Sets Summer Premieres for 'Royal Pains,' Matt Passmore Drama & Others
-Lastly, USA's new series 'Rush' just promoted Larenz Tate ('Rescue Me') to a series regular. He plays Dr. Alex Thomas, Rush's (Tom Ellis) best friend and one of the few constants in his life. Alex is said to be "a man with a plan" who works as a high-ranking physician at one of L.A.'s top hospitals. This role was in second position to Tate's role in the pilot 'Mr. Robinson,' but he will not continue with comedy.