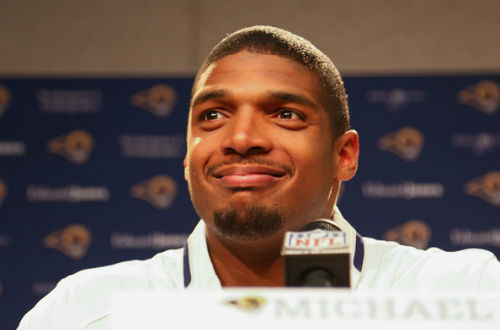 In addition to all of the other news we've been reporting, here are a few entertainment and TV headlines you might have missed:
-OWN's developing a docuseries chronicling the life of football player Michael Sam, the first openly gay athlete drafted into the NFL. Now, the Oprah Winfrey Network is developing a multi-part documentary showcasing Sam as he prepares to enter the world of pro-football.
-It's official: Harry Connick Jr. is returning to 'American Idol' as a judge for the singing competition's 14th season. Ryan Seacrest is also coming back as host, while Jennifer Lopez and Keith Urban are both expected to return as judges.
RELATED NEWS: New Trailers for TNT's 'Proof,' TBS' Rashida Jones Comedy & More
-TVLine's confirmed that TNT's 'Major Crimes' third season has expanded to 19 episodes.
-In other TNT news, Jaime Ray Newman ('Grimm,' 'Drop Dead Diva') is heading to 'Franklin & Bash's fourth season as Anita Haskin's law-school nemesis Cheryl Koch.
-AMC's found leads for its 'Knifeman' pilot. Tom Hollander ('Rev.') and Daniel Mays ('The Adventures of Tintin') will play brothers in the drama based on Wendy Moore's John Hunter biography, 'The Knife Man: Blood, Body Snatching and the Birth of Modern Surgery.' Set in 18th century London, Hollander will play John, a charismatic visionary, quack and scoundrel. Mays is set to portray Julian, John's brother and his polar opposite who's said to be prim and proper.
RELATED NEWS: Modern Rip Van Winkle Drama Coming to SundanceTV
-SundanceTV is adding a satirical workplace series from Danny Boyle ('Slumdog Millionaire'). The cable network is teaming with Boyle to co-produce drama series 'Babylon' with U.K. broadcaster Channel 4. Set to premiere in 2015, the scripted series is set inside a modern police force and stars Brit Marling ('Another Earth') and James Nesbitt ('The Hobbit').