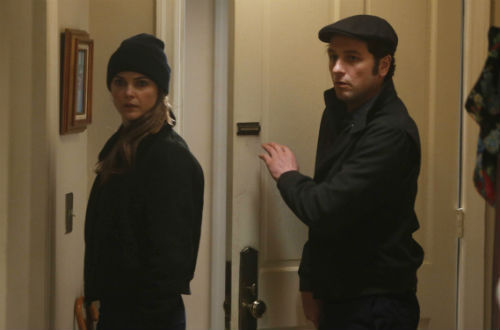 The idea behind 'The Americans' has always been a brilliant and compelling one: Russian spies, having infiltrated America and working on one very long con, are in fact somehow our protagonists. It's a credit to the writers and the actors that we are won and even root for two who are more or less on the wrong side of history.
It's doesn't even have to be about geopolitics - America versus the Soviet Union, capitalism versus socialism. The Flawed Protagonist and the Tragic Hero are a staple in television now, but 'The Americans' takes those notions miles farther. We've two people in Elizabeth and Philip Jennings who are so fundamentally opposed to the world in which the audience lives. In any other show ('24,' 'Justified'), they are the enemy. Not here.
RELATED NEWS: Actor Matthew Rhys Talks Inhabiting a Spy on 'The Americans'
The best of the series and indeed what eventually prevails in the frantic and packed Season 2 finale "Echo" after a slew of questions pop up throughout the season, rests in its intimacy. It's less about convoluted plots, secret liaisons, and disguises (but what disguises!) and more about the Jennings navigating a world they loathe while raising a family.
Thank goodness for Paige.
The smart and inquisitive daughter (Holly Taylor) has provided the most fascinating storyline throughout the season, as Elizabeth and Philip, for however fake some of their lives may be, are very real parents dealing with a rebellious teenager.
Nights of snooping and days of asking questions, paired with the random disappearances and sudden road trips of her parents, has brought Paige, with a stunning reveal at the end of "Echo," into the spotlight.
This second season at times seemed to stall; it was a slow-boring of hard boards with many disparate plots, getting by on sights and sounds while trying to poke holes in Elizabeth's professionalism and Philip's dedication. Both are in play at the eventually satisfying finale, as we turn to Paige.
Before that, of course, there must be bloodshed and an increase in body count in this clandestine war. Also, a major shock, and perhaps a less major one. The latter watches as a pressured Agent Stan Beeman documents secret information, but in the end fails to give it up, condemning Nina.
The big discovery though is that Jared is a Soviet spy recruited secretively after his parents, also spies, didn't want him entering into the same world. Well, he killed them and his sister when they found out and were none too pleased.
It's a bit out of character for the show to see Jared, dying on the ground from a gunshot wound to the neck, explain his cover before at last drawing his final breath in extended, expository fashion. It's also strange that Claudia (Margo Martindale) has to come in later to educate the Jennings and the audience as to just what played out in a rather awkward and forced scene. Basically, the Center wants Paige, just as they wanted Jared.
It's still a staggering reveal, and it connects everything that happened this year, and even if the execution is uncharacteristically sloppy, it's something pretty incredible to think about. We only get a brief couple minutes to contemplate what is happening before the Jennings sit down to eat and the season ends.
This cliffhanger – and it is a cliffhanger – wonders whether or not Paige will be informed of her parents true selves, and if so, how she'll react. Shocked, aghast, devastated, validated, intrigued? She must find out lest the Center reaches her first (have they already?) and while she doesn't seem like the kind that would go down the path of Jared, she has all season been seeking purpose and role models that aren't her parents.
Should she enter this world, however, at any point, it means she is not just simply risking her life, but almost certainly guaranteeing her death. Elizabeth, Philip, and Stan have survived for now, yes, but this episode and indeed season has witnessed the ugly death of plenty who got involved on one side or the other.
The death of Kate was sudden and unceremonious. Jared killed his parents and sister in a hotel room. Jared then dies bloodied in a forest alongside Larrick, who himself was manipulated and exploited. Fred, after helping Philip, dies scared and alone in a phone booth. With Stan refusing to turn over the footage, Nina too has been (likely) sentenced to death.
The Jennings themselves have gone back and forth dealing with the manufactured love they are to have with each other, as well as the physical love they are supposed to infuse with passion when they are undercover. Whereas Season 1 followed the evolution of their relationship as professional partners turned personal ones, Season 2 comes to a close with the latest and most important decision in a long list of obstacles as parents.
With that final scene, 'The Americans' returned to the conflict that has made it so enjoyable in the past: the love one has for their country and cause going up against the love one has for another human being.
Stan loves Nina and his country, and Nina loves Stan and her country; patriotism wins out in both. Both parents love their daughter, but while Elizabeth wants to see her grow up like her mother and fight for a cause, Philip wants her to be safe from this dangerous and deadly world. Dinner is served!