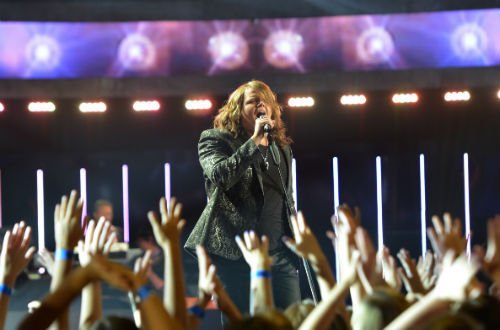 Another singing competition ended this week, and another winner was crowned and sashed. 'American Idol,' that juggernaut responsible for all of the other good and bad talent "reality" shows on television today, awarded its 13th American Idol last night, and we sure do hope this one follows in the footsteps of Kelly Clarkson and Carrie Underwood and not, uh, Taylor Hicks. 
RELATED NEWS: Recap and Review: 'The Voice' Season 6 Finale
And the winner is...Caleb Johnson! The 23-year-old rocker from North Carolina beat out 17-year-old pop vocalist Jena Irene for the title in a neck-and-neck race between the two powerhouses because, well, honestly, the rest of the competitors were pretty weak. (Am I the only one who didn't "get" the whole thing about trapped-deer-in-headlights Sam Woolf?)
Johnson was easily a frontrunner since the beginning thanks to his unbelievable pipes, which seem like they've been ripped out of a classic '70s rock 'n' roll singer and surgically placed in his throat. But it's still too early to tell whether his single/coronation song, "As Long As You Love Me," will go the way of Clarkson's massive hit, "A Moment Like This," or whatever the heck Lee DeWyze sang. I hope it's the former. 
Ah well. Back to the show. The long, two-hour show where balls were tossed around, Ryan Seacrest sang (!) and where the likes of KISS to Jason Mraz performed alongside 'Idol' contestants. And, of course, J. Lo looked tear-jerking beautiful, and fellow judges Keith Urban and Harry Connick Jr. looked pretty dapper themselves. 
RELATED NEWS: My Guilty Pleasure: 'American Idol'
If you missed the extravaganza, don't worry -- I watched the whole thing so you didn't have to (you don't have to thank me -- I take cash donations). Here are the top highlights from the show. 
Best Omen: The power of the number 3. Johnson is 23 years old. He auditioned for 'Idol' three times before winning (yes, three times is the charm). He won the 13th season, and his number to vote was 13. Whoa. 
The Most Surreal (and Really Bad) Moment: Ryan Seacrest sang! At first, it seemed like a joke, or that he just lot a bet or something. But then Richard Marx was there on his piano and the two sang "Right Here Waiting For You" and it was all very strange and terrible karaoke, but it was also cool to hear Seacrest -- at last! -- sing. But, yeah, there's a reason why he's the host, not a judge. I've heard two sick cats wailing that sounded better. 
The Um What? Moment: While Jena sang with her favorite band Paramore, giant yellow balls (OK, they were balloons) dropped from the ceiling and it was really distracting and made no sense whatsoever. They seemed more trouble than they were worth (which was probably thousands of dollars), knocking down the judges' Coke drinks (hope J. Lo's dress was OK!), ruining people's hair, threatening to squash people and end their lives. I feel bad for the people who had to collect them during the commercial break (I hate the sound of popping balloons). 
Most Aw! Moment: After Caleb and Jena were awarded their requisite free 2015 Ford Mustangs, they revealed their hometown music inspirations, who were not only invited to the show's live finale, but also awarded their very own Ford vehicle. Inspiring kids is worth it, peeps. You might get a free car! 
Best Collab: The judges -- Keith, Harry and Jen -- along with former judge/current coach, Randy Jackson, sang "True Colors" and "Go Your Own Way" together and it was pretty incredible. It was also the first time in 'Idol' history when all of the judges had performed together onstage, which itself seems pretty incredible, but not when you picture Nicki Minaj and Mariah Carey together onstage together, or for that matter, Simon Cowell. 
'American Idol' returns in the fall.