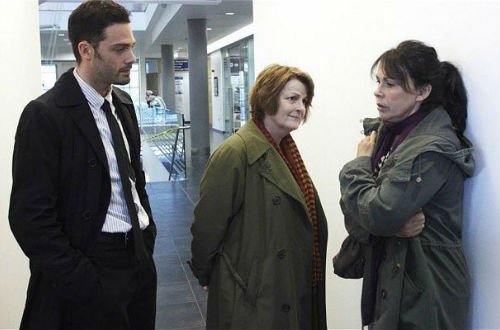 This morning, ITV announced drama series 'Vera' will be back in 2015 for its fifth series. The show is returning with a new male lead, Kenny Doughty, who is joining the show as a regular.
RELATED NEWS: 'Emmerdale' Promises Unmissable Summer of Drama
The press release reads:
"Filming has begun in the North East of England for Series 5 of 'Vera.' Brenda Blethyn reprises her role as the brilliantly perceptive D.C.I. Vera Stanhope alongside actor Kenny Doughty ('Stella,' 'The Ayran Couple' and the West End production of 'The Full Monty') who will join the show as D.S. Aiden Healy.

Series 5 will have four new episodes based on the characters created by novelist Ann Cleeves.
 
Episode [1] is written by Martha Hillier and follows Vera and Aiden as they investigate a mysterious death at a caravan park. 
D.S. Aiden Healy will replace D.S Joe Ashworth (David Leon) and it is not long before he is on the receiving end of D.C.I. Stanhope's caustic wit.

Series 5 also sees the return of Jon Morrison ('High Times,' 'Nil By Mouth') as D.C. Kenny Lockhart, Cush Jumbo ('Torchwood: Children of Earth') as D.C. Bethany Whelan, Kingsley Ben-Adir ('City Slacker') as pathologist Dr. Marcus Summer and Riley Jones as D.C. Mark Edwards.

Prior to filming Brenda said: 'I am so happy to be embarking on series 5 of 'Vera' and whilst I'll miss David Leon (Joe Ashworth finally got his long awaited promotion - Celine was delighted!), I'm very glad to be reunited with Jon Morrison, Riley Jones, Cush Jumbo and our new member of the team
Kenny Doughty. Northumberland here we come!'
Kenny Doughty said, 'I'm really thrilled to be joining Vera. It's such a fantastic show and I'm especially excited to be working alongside the lovely and brilliant Brenda Blethyn.'

Filming will continue in the North East until autumn 2014 and will be onscreen in 2015.
Directors for this series are Marek Losey, Daikin Marsh, Stewart Svaasand and Will Sinclair.

Produced for ITV Studios by Margaret Mitchell with executive producers Kate Bartlett and Elaine Collins, 'Vera' has been re-commissioned for ITV by Director of Drama Commissioning, Steve November."