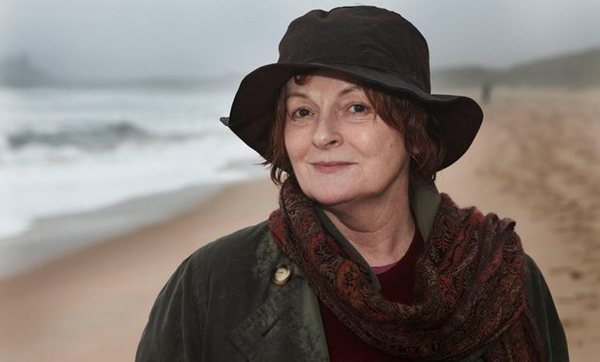 Brenda Blethyn talks about the new series of Vera and why it has become a worldwide hit. The new series starts on Sunday, January 31st at 8pm on ITV.

Vera is now twenty four cases in. Can you work out whodunit?
No I'm not able to tell. The scripts are extremely well written. And like most thrillers I'm kept guessing until the very end. Actually, neither does Vera "guess" who the culprit is. I'm not an actor who goes to the last page first.
You're very supportive of author Ann Cleeves. How has your friendship grown over the years? 
I attended the book launch of The Moth Catcher, which the third film is adapted from. But we are both extremely busy and don't see each other much. I love it when Ann visits the set. I went to her house to enjoy a fabulous curry made by Tim, Ann's husband. It was absolutely delicious.
When you first started to film Vera back in 2010 did you ever imagine how successful the series would become?
You always hope the project you are working on is going to be successful. I thought the character was very interesting, different, and worthy of a series but of course there is no guarantee. So naturally we were all delighted when the first series was commissioned. And thrilled each time it has been re‐commissioned.
Vera is screened to over 100 international territories. Have you received feedback from oversees viewers?
Yes it's always nice to hear from viewers across the world who enjoy Vera. There was a lovely review in the Sydney Morning Herald recently. They love her irascible nature and many admire the fact that she commands a position of authority over men!! And that the episodes are so well written.
What can viewers expect from this series?
More high quality drama. I love that ITV maintain the production values of the series. The art department is second to none. The stories in the first two episodes are particularly difficult for Vera to come to terms with. And as viewers have come to expect there are many great Northumberland locations.
A lot of the case evidence is displayed on iPads . How familiar are you with modern technology?
I do use a mac, and iphone . But I don't use it to it's full potential. For instance I don't use a calculator or sat nav. I prefer to use my brain. I'll look at a map and work out the route. Calculate something with a pencil and paper. Certain mod cons are used in the police force. Speed of access to information is often vital. But Vera is old school. She'll probably end up with an iphone at some point. But all the time Aiden has one, she doesn't need it!
You're a great supporter of the Macmillan Coffee morning, which was held on September 25 whilst you were filming. What did you do to help raise awareness and funds?
Yes I'm a supporter of Macmillan Cancer Support. For a couple of years I did the voiceover for the coffee morning commercial. The cast and crew of Vera organised a coffee morning that day (25th September 2015) and we sent off a cheque for about £700. The following week our wonderful supporting artistes held another one and sent off another sum of money. They're great and many of them have been with the show from the beginning.
Do you support any other charities?
Yes I'm a supporter of quite a few charities including, Barnados , The Princes Trust, The Royal United Hospital, Bath Buy‐a-­Brick Campaign, The Ramsgate and Broadstairs Sea Cadets and I'm president of the Thanet Male Voice Choir.
The locations and landscapes are always a big part of the series. What areas of the North East were new to you?
One of the locations we visited whilst shooting the fourth film was Redcar. It was very sad because it was at the time of the tragic steelworks closure. Thought provoking to say the least. In the same film we also spent a good deal of time at North Shields fishmarket .
What is your favourite scene from the new series?
There is a scene in the first film between Vera and Edwards (Riley Jones). It's late at night and they're the only two leb in the office. It shows the vulnerabilities and strengths of both characters and of Aiden who witnesses the scene.
Courtesy of itv