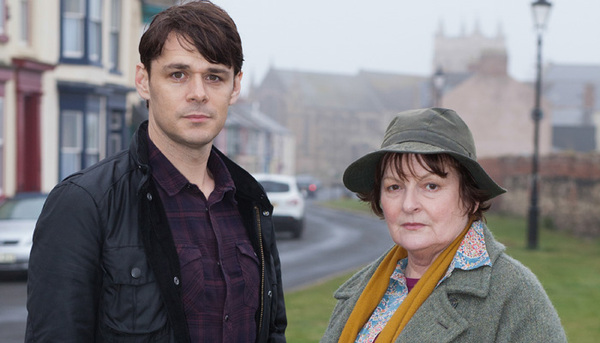 Kenny Doughty talks about the new series of Vera and explains why he thinks it has become a worldwide hit. The new series starts on Sunday, January 31st at 8pm on ITV.
Following the broadcast of series five what feedback did you receive?
My friends and family were very excited and lovely about my debut on Vera. One actor friend was very kind and said it was like I'd always been part of the drama. For me that is the biggest compliment. To come into such a successful drama and become part of the world was very important to me. I was really moved and touched by the Vera fans who contacted me on social media. Their support and kindness for Aiden is lovely. They really got behind him from the beginning and that meant the world to me. This drama is their programme – it's for them and I thank them for their support.
For someone who hasn't seen Vera, how would you summarise D.S. Aiden Healy?
In last year's series Aiden was new to the area, the job and finding his feet with his new boss Vera. He probably tried too hard to impress and often made mistakes. This series we have a more settled Aiden. He is confident about his job and is a hardworking Detective. Not on the same level of genius as Vera but he does understand her thinking more. However he's still hot headed at times and physical with some of his suspects which gets him into trouble. To diffuse a situation with his boss Aiden often uses his cheeky banter. As a he is answerable to Vera, but they work together closely on each case alongside a strong team. Aiden and Vera's relationship has grown over the course of the series. There's a lot more trust between them. Even though Vera gives Aiden a hard time with her demands and sharp wit and expectations, underneath he is very fond of her and protective.
What can viewers expect from the new series?
The new series of Vera is blessed with some terrific stories. The first film covers a shocking storyline that I haven't seen before on Vera – one that will affect everyone on the investigation team. Over the course of the four films we tackle cases that involve domestic abuse, a family feud in the fairground world of travellers and the difficult and stressful lives of the fishing community in the North East. And to top it all we were lucky enough to film an adaptation of Ann Cleaves ' latest book 'The Moth Catcher' which is the third film in this new series.
How different was each director's approach to their own self-­contained films?
What I love about working on Vera is that each film is like starting a new job as we have new directors, cast and writer. It always brings freshness and there's a real sense of excitement when we start the new film. It does take a few days for the new director and regular cast and crew to find each other's rhythm as each director has a different way of working. But by day two or three we are all on the same page. I think it's this energy that keeps each film fresh and challenging.
Did you face any challenges during the shoot?
Vera is a special job as most of the shoot is on location. We get to see pretty much all of the North East and experience all of its glory. As with most shoots we also work days and nights which means that some filming days are freezing! On the second film we were on a crime scene that was so remote it took forever on quads or 4x4's to get there. The location was stunning – but as it was so remote the insect life was undisturbed until we arrived. I have never seen as many flies in my life! Every take was a battle not wave off a fly from your face or mouth. Clouds of black flies swarmed around everyone and that buzzing in your ear!
Do you have favourite/memorable scenes?
I love the scenes between Aiden and Vera when they are taking a moments pause from the case in hand. When they get to share and talk about their lives. There's one particular moment at the end of the second film when Vera has encouraged everyone to go to the pub but she stays behind – Aiden comes back with a takeaway and Vera offers up a mug of whiskey. They have a moving, if fleeting, moment together before the banter starts up again. There's a scene I loved shooting when Aiden and Vera are grabbing a sandwich and mulling over the case – they touch upon Aiden and fatherhood and in their own way share a lovely moment.
Did you have any down time during the production to explore the North East?
It's a pretty intense shooting schedule on Vera and we don't really get that much time off to explore the North East outside of filming. But as each episode is so location based we get to visit pretty much all of Northumberland and beyond. I love filming on the NE coastline – I think it's stunning! When I get any free time I love going for beach walks at Tynemouth.
Tell us about your working relationships with the cast and the production team.
Brenda and I get on brilliantly. It's a 5 month intense job and I spend pretty much every day with her. We have the same silly sense of humour which in those over long days is a lifesaver. There was a weekend over the summer that we had 2 consecutive days off and we decided to head up to the Edinburgh Festival. I don't think we stopped laughing on the train journey up there – I'll let her explain why!!! It's always a real treat when Ann Cleaves comes to set and we all managed to have dinner together after filming. Ann is such a lovely, kind and knowledgeable women and I love being in her company.
Vera is globally successful. What do you think audiences love about the series?
Brenda Blethyn's genius in her portrayal of Vera. That combined with scripts that are always smart, intriguing and atmospheric. The series is shot like four individual films and every department of the crew are working at the top of their game. Vera has the highest production values on screen and the expansive moody rural locations add to the air of mystery. Audiences love watching this unlikely and iconic Detective, played so amazingly by Brenda. They love her sharp wit, her relationship with Aiden and her unorthodox techniques. They love that she is an older woman in a man's world and she is completely devoid of affection or vanity. Working on Vera is such a joy – the cast and crew are like a second family to me and everyone cares so much about creating the best series. It can be tough at times – intense long hours all together day after day for 5 months. Things go wrong sometimes of course, but whatever happens we are all in it together. I love that about the series. There's a real sense of togetherness in telling these stories. I'm very proud to be a part of it all.