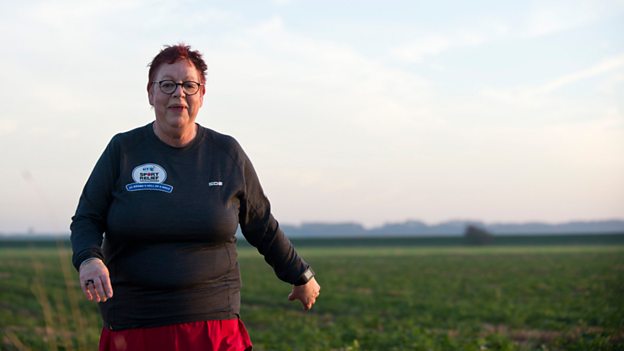 Documenting a remarkably different charity challenge from any other in Sport Relief history, "Jo Brand's Hell of a Walk for Sport Relief" is an hour long one-off programme on BBC One, looking back on the seven day challenge that saw comedian Jo Brand walk east to west right across the width of the country, covering 135 miles for Sport Relief 2016.
The programme, made by BBC Bristol, provides the inside story and exclusive behind the scenes access as the much loved 58-year-old battles through the physical and mental effects of the trek, admitting herself she is not athletic at all, in a raw and revealing account that people across the UK will really be able to identify with.
Jo is a reluctant hero on the challenge who, in her own words, wanted to walk to represent all the overweight middle-aged women who rarely receive the media spotlight for the right reasons. Jo says she wants them "to get up off their bums, do a bit of exercise and live a bit longer"…as she proved even she could do this, for 7 whole days. Jo's hellish week started on the Humber Bridge where she battled the elements to complete her first day. There was no let up on day two, with Jo walking for an exhausting 14.5 hours, with not even a visit from actor and comedian Alan Davies able to lift her spirits.
The half-way point saw Jo hit a dark place as she had pushed herself to the absolute limit. To keep her going, she was joined by another mate – fellow comedian Lee Mack. However, the day did not prove to be the stroll in the park she had hoped for. Jo's appetite had disappeared and she was struggling for energy with every step.
The programme goes on to tell the inside story of the dramatic fifth day when the challenge became news as Jo was blown off her feet by a battering gale from Storm Jonas. Undeterred by biting cold, gale force winds of over 50mph and torrential rain, Jo battled her way across the Pennines, joined by pal and past challenge veteran Davina McCall for the closing stages.
"Jo Brand's Hell of a Walk" continues to see the comedian fight against extreme fatigue as she finished off the epic challenge, eventually reaching the Royal Liver Building on Liverpool's iconic waterfront. She was greeted at the finish by another Sport Relief legend and local hero, John Bishop who cheered Jo over the line by announcing that she had burnt over 40,000 calories, taken over 500,000 steps and, most importantly, had already raised an incredible £848,702 for the vital work that Sport Relief supports.
Jo's motivation for the extraordinary challenge was to raise money for an incredible range of causes, funded by Sport Relief, that mattered to her personally. Over the course of the walk, Jo was able to meet a number of beneficiaries of these projects – people like Fatou, a 23-year-old woman from Manchester, who like Jo is very aware of the stigma surrounding mental illness. However, since she started coming to MIND Manchester, Fatou now finds these things much easier to talk about. MIND Manchester provides counselling in an accessible way, meaning it reaches people who don't have access to these services. By supporting younger people to manage their own mental health through counselling, this will then increase their ability to cope.  
Featuring visits from fellow stars Alan Davies, Bill Bailey, Gabby Logan, Lee Mack, Davina McCall, John Bishop as well as a special performance from Billy Bragg and with constant support from Sport Relief veteran trainer Professor Greg Whyte OBE, the one-off special show offers the audience a true understanding of the incredible lengths that Jo went to, to make a difference to people around the UK and across the world.
The programme was made by BBC Bristol, and will air at 9pm on BBC One, Thursday 17th March.