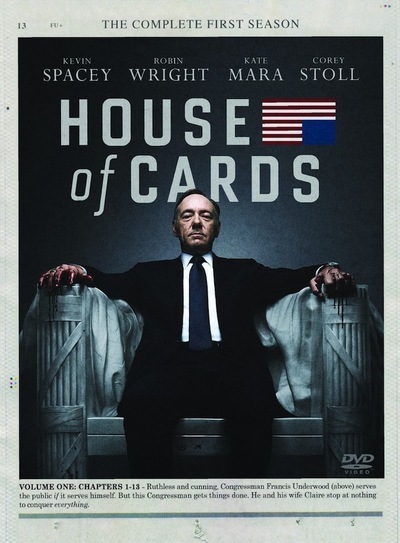 When Netflix premiered all thirteen episodes of its original political thriller 'House of Cards' all at once, there was a clamor over which method was best to watch it. Should it be binged all at once, or savored slowly, episode by episode? Netflix's format seemed to encourage the former, but in retrospect, it's easy to wonder if the show might have left a much deeper impression if we allowed time for the subtleties of each episode to sink in.
But it's been over four months since 'House of Cards' premiered, and that question hardly seems relevant anymore. Most people who have Netflix have either watched the series or decided not to, and now 'House of Cards' arrives to the rest of the public on DVD -- a medium in which the question of to-binge-or-not-to-binge has been around so long that it's essentially moot. 
'House of Cards' follows conniving and ambitious House Whip Francis J. Underwood (an almost mischevous Kevin Spacey) has he plots revenge on those who robbed him of political gain. Along with his wife, Claire (the equally fantastic Robin Wright), he orchestrates power grab after power grab as he slithers his way up the political ladder, unwilling to let anyone -- not even fiesty young journalist Zoe Barnes (Kate Mara) get in his way.
As with any TV on DVD release, there are two different audiences who are probably considering whether or not to buy 'House of Cards' on DVD: those who haven't already seen the series, and those who have. And here's the problem: aside from ensuring you have a copy of the series that lasts longer than your subscription, the DVD set offers nothing that Netflix doesn't already have. There are no special features of any sort in the four-disc set: just the thirteen episodes in decent-enough packaging. If you plan on keeping your Netflix subscription, there's no reason to buy this set.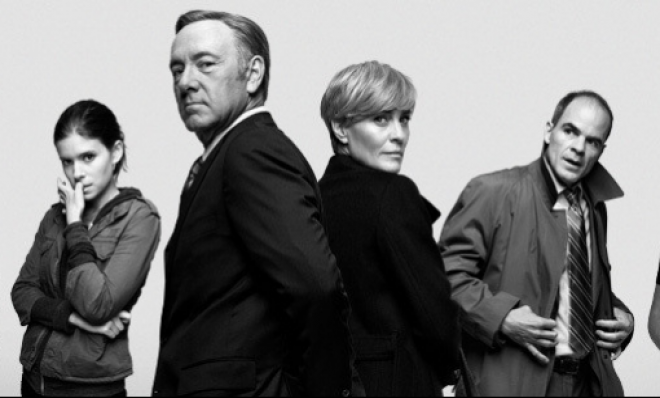 But if you don't have a Netflix subscription and haven't seen 'House of Cards,' you should definitely get this set. Though it has its faults -- there's the occasional awfully trite line here and there -- 'House of Cards' is eminently watchable TV. The performances are all spectacular (at least three of them -- Spacey, Wright, and Corey Stoll -- are Emmy-worthy), and the show moves at a creeping pace, expertly building tension while developing this characters in interesting, often surprising ways. It's a pessimistic show that's often relentlessly dark. But that darkness makes the moments of humanity really shine in the depraved, cynical world the story depicts. You'll find yourself rooting for characters you know you should hate, and vice versa. Even if you're adamantly against getting a Netflix account, you still owe it to yourself to watch this series -- it's one of the great new shows of 2013.
As for how you watch it, I can't help but urge you to savor it slowly. Most people who watched it on Netflix -- including myself -- likely watched the series as quickly as possible, but I can't help but feel that more restraint and a slower pace would have made me enjoy the series even more.
You can order 'House of Cards: The Complete First Season' over at Amazon.