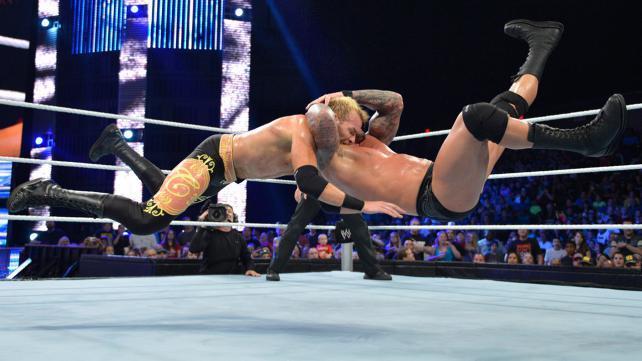 Greetings WWE fans! 
It's great to be back for another WWE Week in Review! Before we get underway today, let's all take a moment to appreciate the beauty of the RKO being delivered to Christian in the image above... the shot was taken from their match this past week on 'WWE Smackdown' (click here for a full recap of the episode). Some wrestlers have always matched up well together and Christian and Randy Orton certainly click. Similarly, some wrestlers have always taken particular moves better than others: no one takes an RKO like Christian, no one takes a DDT quite like Rob Van Dam, and no one ever took a Pedigree better than Kurt Angle. Oh, and lest we forget how much fun it is watching Randy Orton take Shawn Michaels' patented Sweet Chin Music to the jaw...
Pick your favorite!!
This is our third attempt at the WWE Week in Review here at TVRage.com and we're still working out the kinks. We want to deliver everything that you want out of a review column, so please keep those suggestions coming. Last time, we introduced a Top Ten Performers of the Week list. This week, we're not only going to pick the Match of the Night for 'WWE Raw,' 'WWE Main Event' and 'WWE Smackdown:' we're also going to pick the Match of the Week overall!
And hey--we began a brand-new weekly Pro Wrestling feature this week: The Wrestling Flashback! Michael Stevenson will be taking a look at the best characters and storylines from the good old days--check it out!
So let's get things going with last week's 'WWE Raw!' (recap)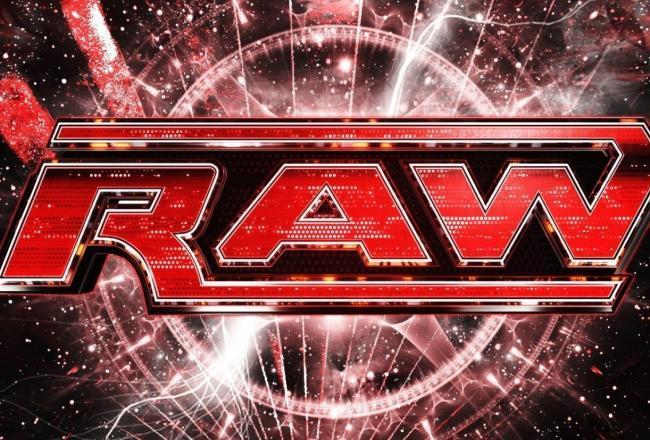 The big news coming out of last week's 'WWE Raw' was a rare Champion vs Champion match, which saw the World Heavyweight Champion, Alberto del Rio, square off with the WWE Champion, John Cena. It was a blockbuster main event and I'm pleased to say that both del Rio and Cena delivered and gave the show a big-match feel. I definitely have to call Cena vs del Rio the Match of the Night, however there were other strong performances we'll get into later. 
Whomever is responsible for booking the matches on 'WWE Raw' of late has seemingly stepped up their game; even the shorter matches are telling a more clear and viable story than they have been for some time. The story behind Champion vs Champion was simple: these are the two best that the WWE
has to offer and they're going head-to-head. Both men hit their signature spots with just enough dirty tactics from del Rio to keep the crowd firmly against him. Also noteworthy was how stiff both Champions worked this match; despite being the faces of the WWE, del Rio and Cena beat the hell out of each other as though this were a pay-per-view match. Del Rio's kicks to the head of his opponents are becoming quite memorable and Cena ate some nasty shots during this bout. 
Unfortunately, we couldn't get a clean decision in the Champion vs Champion match, as no one wants one particular Championship to be seen as above the other. Still, after distractions from both #1 Contenders to the Titles (Mark Henry and Dolph Ziggler), Cena caught del Rio with an Attitude Adjustment and the WWE Champion stood tall to close the show. 
We were treated to a series of vignettes throughout the night honoring past WWE and World Heavyweight Champions over time. These packages were well-made and, notably, featured none other than Sting as one of the greatest former World Heavyweight Champions. Cue the rumors to begin flying again: could we see Sting wrestle in a WWE ring one day? Time is rapidly expiring on this particular question and this fan believes that it's got to be Wrestlemania XXX or never. Who would you like to see Sting face in the WWE?
Also on 'WWE Raw' we saw a rematch of a 6-man Tag from last week, with Christian and The Usos competing against The Shield. This was another great match and I have to give The Usos a lot of credit for rising to the occasion and "running with the ball" now that they've been placed in a high-profile storyline. The Usos have been cracking out new double-team moves of late that we've never seen before. Their match-up with The Shield has the potential to bring a buzz back to the Tag division that we haven't seen since The Hardyz vs The Dudleys in the 00's. And let's not forget Christian and Ambrose, who are smouldering a nice little feud behind the Money in the Bank scenes.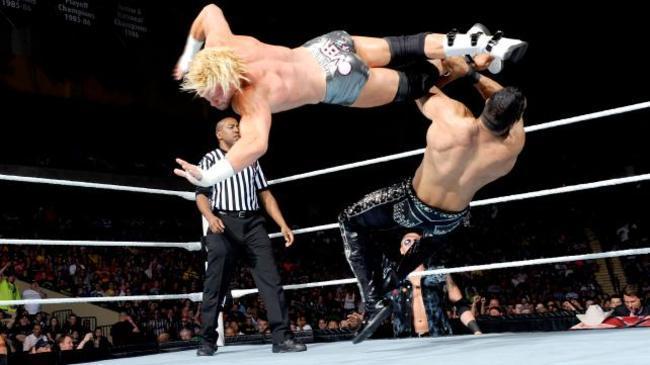 Dolph Ziggler also returned to action last week, facing off against Jinder Mahal of 3MB. Now we all know that 3MB is a goofy gimmick and it isn't going to get any of the members over with the crowd... but as I've said before, each member can perform spectacularly well in the ring. We haven't seen Mahal in a singles match in ages in the WWE, but he delivered high-powered offense which the Show-Off sold like a million bucks. Can't wait for the day that the members of 3MB are free of the gimmick and are able to be taken seriously. 
And we can't move on to 'WWE Main Event' without mentioning the interesting turn the Ryback character has taken... ever since Chris Jericho began referring to him as Cryback, the WWE seems to have run with the idea. Ryback dominated his match against The Miz until the resiliant Miz fought back and went to work on Ryback's injured leg. This caused Ryback to forfeit the match--an outcome we haven't seen on WWE television in some time. The segment served to strengthen The Miz character (which was sorely needed after months of lacklustre losses) and put a target on the Ryback character as he moves into a grudge match against Chris Jericho at the pay-per-view.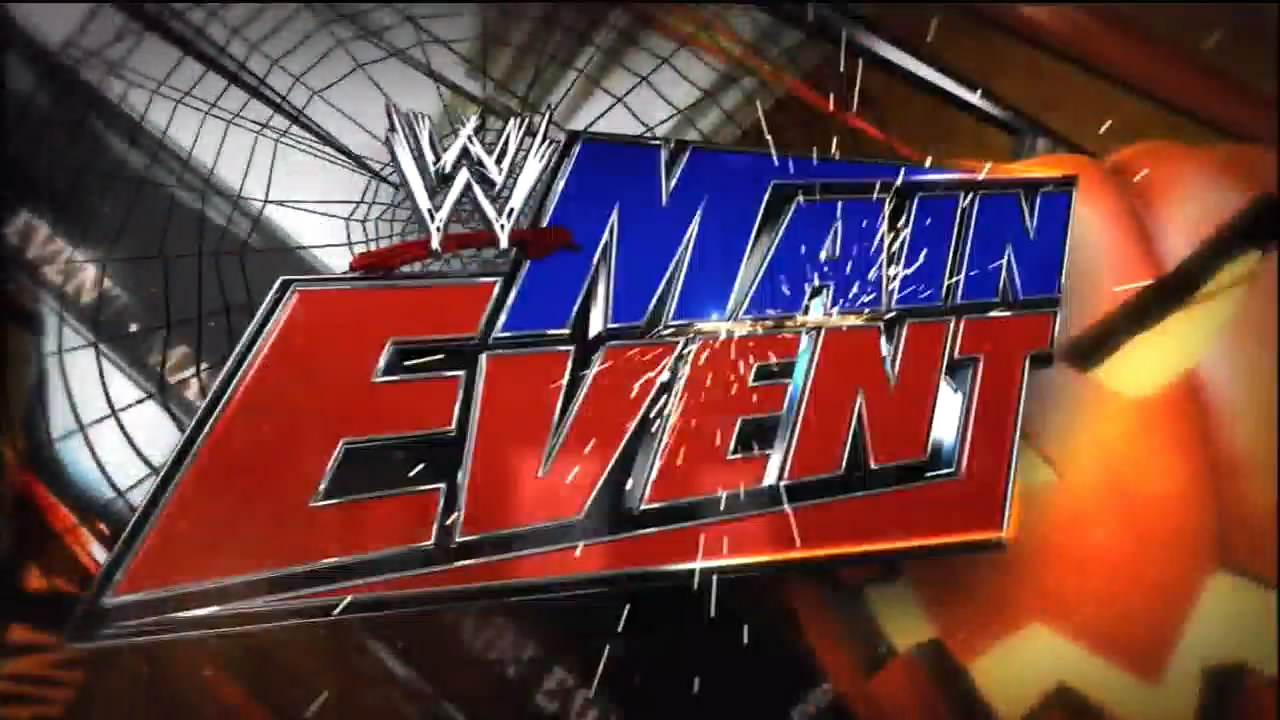 Over on 'WWE Main Event,' the Match of the Night was the main event, fittingly. Christian vs Damian Sandow delivered good, fast-paced, straight-forward action. This is exactly what 'WWE Main Event' is for: showcasing the superstars of the WWE in good, entertaining matches, without all of the trappings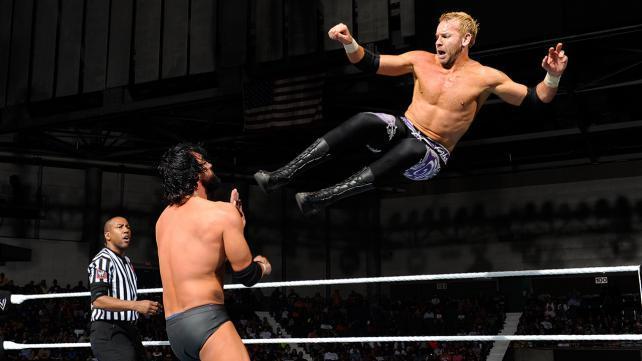 of the lengthy storylines found on 'Raw' or 'Smackdown.' Sandow is seemingly the ideal opponent for Christian's unorthodox offense and, in my opinion, it's only a matter of time before Damian Sandow gets a long run with the World Heavyweight Championship. This match featured perhaps the nicest flipping neckbreaker I've ever seen, which Sandow delivered to a bent-over Christian. We also had the pleasure of hearing Sandow's best friend, Cody Rhodes, on commentary, furthering the storyline where Rhodes and Sandow are losing faith in each other. 
Also on 'WWE Main Event' we saw a match that has been occurring often on 'WWE NXT' over the past few months: Big E Langston vs Curt Hawkins. Hawkins is an underrated talent and I hope his new 'Sons of Anarchy' inspired gimmick lands him a regular spot on TV. 
Jack Swagger also returned to the ring defeating Sin Cara. I'm glad that the WWE has realized that Cara is best utilized to showcase the offense of other talents. 
Onto 'WWE Smackdown!'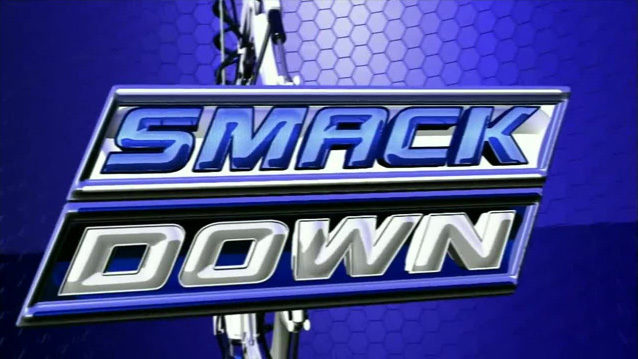 Well it's no surprise considering the image that kicked off this Week in Review that the Match of the Night on 'WWE Smackdown' last week was Randy Orton defeating Christian! Christian appeared in three stellar matches on all three WWE shows this week--with three different opponents. The ring-generalship of Captain Charisma cannot be denied.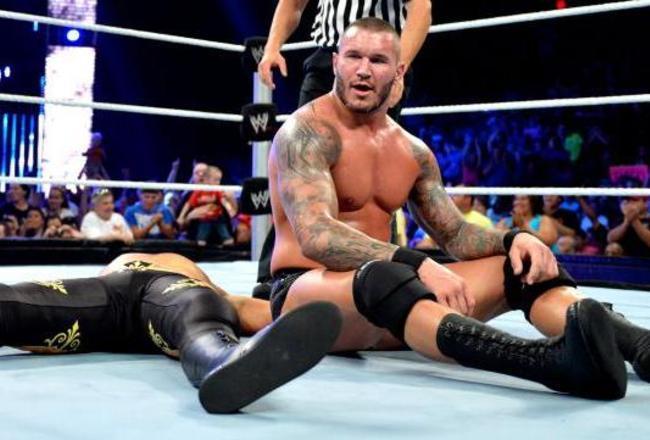 The storyline of Orton vs Christian was that these men know each other very well. It hasn't been long since Christian and Orton were feuding over the World Heavyweight Championship, a title that both men took from the other on at least one occasion. We saw a lot of interesting dodges and counters in this match, including Christian evading Orton's signature powerslam as well as Orton being prepared for Christian's springboard back-elbow. This match had great moves, even better reversals, a good story, and the all-important clean-finish; what more could you want out of a pro wrestling match? That's why I've got to name Christian vs Orton on 'WWE Smackdown' as the Match of the Week!
The other big storyline on 'WWE Smackdown' was CM Punk's continuing feud with Alberto del Rio. It's clear that Punk and del Rio are acting as place-holders for one another while we await Money in the Bank, as Punk's main storyline surrounds Paul Heyman and "The Beast" Brock Lesnar. Still, del Rio and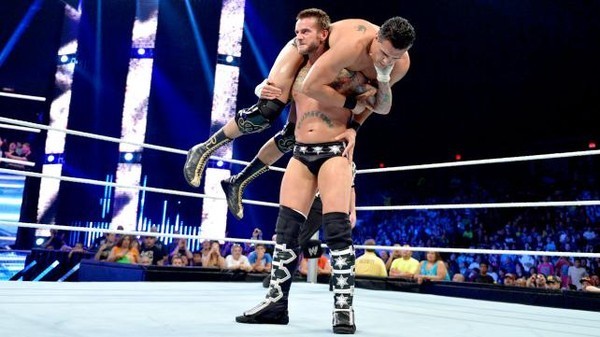 Punk match up very well (as we saw the previous week) and the WWE managed to fold the Heyman plotline into the 'WWE Smackdown' main event. Theodore Long ordered Paul Heyman to join commentary for the match, despite the fact that CM Punk asked Heyman not to get involved in his matches anymore. When del Rio struck Heyman and sent him sprawling to the mat, Punk became incensed and viciously assaulted del Rio, resulting in the match being deemed a "No Contest." I would happily watch Punk and del Rio fight every week and this could have been the Match of the Night if it weren't for Christian and Randy Orton tearing the house down earlier in the evening. 
Also on 'WWE Smackdown' we got a rare appearance and match from the Cape Town Werewolf, Justin Gabriel. Gabriel lost to Fandango, but the match showcased why Gabriel got called up to the Big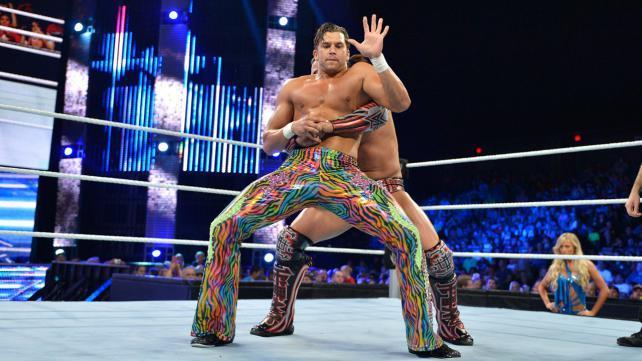 Show once again: the "Dare-wolf" can hype up a crowd in very little time and get himself over also while selling the offense of his opponent. Fandango has all of the tools to be a major player in the WWE for years to come and this short little match made the Ballroom Brawler look like a million dollars. 
And continuing the storyline from 'WWE Raw,' the #1 Contender for the World Championship, Dolph Ziggler took on another member of 3MB. This time it was Drew McIntyre's turn to lose to the Show-Off but, just like on 'WWE Raw,' Ziggler's excellent selling showed that 3MB has far more talent than their weak gimmick would allow people to believe. In the end, Ziggler went over strong--perhaps more importantly, he was given a mic for one of his first promos as a babyface. The transition hasn't been entirely smooth, but the WWE Universe seems to be willing to cheer Ziggler based on his performance in-ring alone. 
So how about the Top Ten Performers of the Week?
9 & 10) Jimmy & Jey Uso: while I want The Shield to hold the Tag Titles a while longer, I hope their feud with The Usos establishes Rikishi's sons as major players.
8) Fandango: The Ballroom Brawler is back and still looking great. 
7) Damian Sandow: Great match on 'WWE Main Event' and good appearances elsewhere for the Savior of the Masses. 
6) John Cena: Terrific match with Alberto del Rio on 'WWE Raw.'
5) Dolph Ziggler: while tuning up for Money in the Bank, The Show-Off is solidifying his babyface character well.
4) CM Punk: the Best in the World is still the Best on the Mic, that's for sure. 
3) Randy Orton: He's having the best matches he's had in years, of late.
2) Alberto del Rio: Last week's Performer of the Week almost makes it two in a row!
And our Performer of the Week is...
Captain Charisma himself, Christian!! Three shows, three stellar matches makes the Canadian Captain our Performer of the Week.
Agree? Disagree? Sound off in the comments below! And keep those suggestions coming, TVRagers! Until next time...