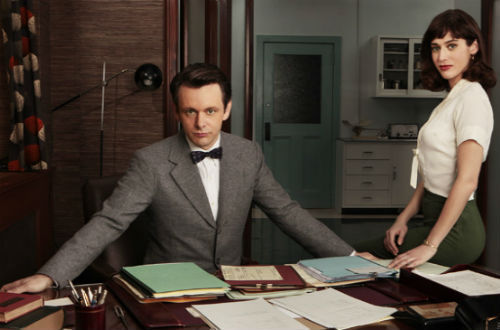 In addition to all of the other news we've been reporting, here are a few entertainment and TV headlines you might have missed:
-Showtime has announced premiere dates for two dramas. 'Masters of Sex' will return Sunday, July 13 at 10/9c following the Season 2 premiere of 'Ray Donovan' at 9/8c.
-Amanda Righetti, known for 'The Mentalist,' will guest star on 'Chicago Fire' and Chicago P.D.,' E! reports. She'll star as a pediatrician on upcoming crossover episodes for both NBC dramas. There's also speculation that Righetti might head up another 'Chicago' spin-off focused on a hospital titled 'Chicago M.D.,' but, as of right now, that's purely rumor.
-TBS is currently developing a comedy produced by 'The Office's John Krasinski. 'Jackass of All Trades,' revolves around a stay-at-home dad who, after getting his family into financial trouble, starts working odd jobs off of Craigslist to make ends meet.
-TVLine exclusively reports that Treat Williams ('Everwood') will star in the 'CSI' Season 14 finale. He'll play Sam, a pioneer of forensic science who is drawn back into an old investigation about the murder of a 12-year-old.
-'Dexter's Desmond Harrington is headed to ABC's 'Astronaut Wives Club,' where he'll portray Alan Shepherd aka the first American in space.
-According to The Hollywood Reporter, Sharon Gless ('Burn Notice') has been cast in ABC's 'Saint Francis.' She'll play Francis' (Michael Imperioli) "pain-in-the-butt" Irish Catholic mother, Janice. Oh, and she also lives in his basement.
-A new trailer for FX's 'Fargo' has been released, featuring Martin Freeman, Billy Bob Thornton and Kate Walsh. Check it out here:
-Lastly, 'Rizzoli & Isles' fifth season will address the death of Lee Thompson Young, who committed suicide last August. As actress Angie Harmon tweeted, "Hope you enjoyed @RizzoliIslesTNT season 4 finale. Season 5 eps 1&2 address our beloved Lee w/ love, honor & respect. Thank you @JanNash100."