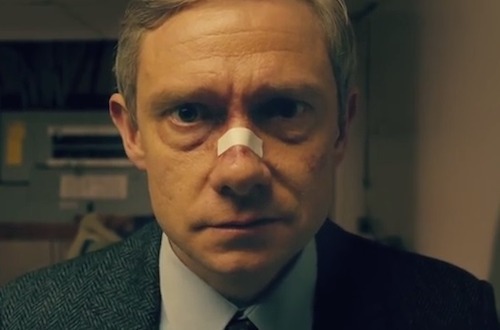 Whether he's slaying Orcs as Bilbo Baggins in 'The Hobbit' or deducing crimes as the lovable John Watson in 'Sherlock,' it's clear that Martin Freeman's acting range knows no bounds. But if you thought the British star was impressive before, that's nothing compared to what he has in store for fans in his latest TV venture, 'Fargo,' which makes its FX debut on April 15.
Trading in his U.K. vernacular for a Minnesota accent, Freeman dives headfirst into the role of browbeaten insurance salesman Lester Nygaard, who finds himself descending down a dark and dangerous path. Are things going to get messy? Oh yah, you betcha!
In a recent conference call with TVRage, Freeman opened up about his upcoming role in the dark comedy, what drew him to the project, and how he went about nailing that Midwestern accent.
"With Lester I just got the feeling that this was going to be a role where you could give reign to a lot of stuff," Freeman explains. "Even within that first episode, the range that he goes between is really interesting, so I knew that was only going to grow and expand in the next nine episodes…by the end of Episode 10, Lester's capable of things you never would have suspected in Episode 1."
Of course, this is all thanks in large part to hitman Lorne Malvo, played by Billy Bob Thornton, who plants certain dark seeds into Lester's previously innocent head. "It was those initial scenes with Billy that really attracted me to doing the role because they were just mesmeric," Freeman admits. "Lorne Malvo is a constant presence in Lester's life because of the change that Lester has undergone as a result of meeting him."
He adds, "Everything that Lester does, every way that he develops as a character for good and bad, you can say is kind of down to that initial meeting with Lorne Malvo."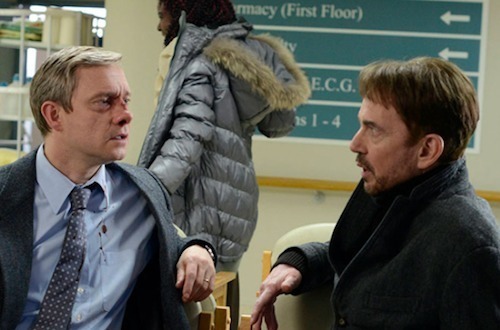 So what if their paths had never crossed? Would the same shocking events come to pass? "I don't know, it's a good question," Freeman tells TVRage. "I think if it would've happened, it would've taken a lot longer. So I think you have to blame Billy Bob for all that [happens]."
Speaking of Thornton, Freeman found working with him to be an absolute joy. His only regret is that they didn't have more scenes together. "We don't get as much screen time as I would like," he says. "We clicked. It was very, very easy. We had a good chemistry together."
Given that the series stems from the film's original concept, it's easy to try comparing Freeman's Lester to William H. Macy's Jerry Lundegaard. However, Freeman assures viewers that his character possesses its own unique entity. In fact, he made a point not to re-watch the movie just so his performance wouldn't be affected by it.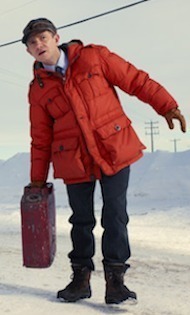 "I didn't want it in my head to copy or to consciously differ from, because as soon as you try and differ yourself from someone, you're becoming too conscious of that performance anyway," he remarks. And as brilliant as he admits Macy's performance was, he really just wanted to make the part his own. "I purely treated it as my performance of a very different character, albeit with some comparisons."
Does that mean folks who love the film won't love the series? Freeman certainly hopes viewers "come to it with an open mind" before making any sudden judgments. "Within 10 minutes you're no longer thinking about the 1996 film. Through my experience of how people have reacted, they're engrossed in the world we've created."
And how about that gosh darn accent for Pete's sake? Freeman says, "I worked very hard on the accent. I didn't want it to be like a comedy sketch. I wasn't playing an accent, I was playing a character who happened to speak like that and to be from that place." As far as preparation goes, "I listened to a lot of Minnesotans in an audio sense and in a visual sense."
But tackling an accent wasn't the only challenge Freeman faced. Seeing as this was his very first time working on an American television series, he was very surprised by the fast-paced environment.
"I wasn't used to working that fast. When I found out how long it takes to make an episode of 'Breaking Bad' I couldn't believe it because I thought, 'It only takes that long?!'" But he found it to be a rather exciting disciplinary technicque for his acting skills.
"You're aware that if you've got something to bring, you better bring it now. Don't bring it in two hours because we won't be doing that scene in two hours, so that was great for me. I loved the break-neck speed of that, but it was a challenge."
Regardless, we're sure he's going to charm us just as much from the Midwest as he has across the pond.
'Fargo' premieres Tuesday, April 15 at 10/9c on FX.