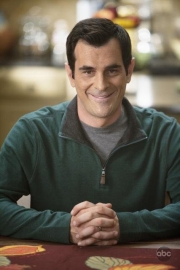 Phil Dunphy, played by Ty Burrell

---
Philip "Phil" Dunphy son of Frank & Sarah Dunphy, husband of Claire for 20 years, father of Haley, Alex and Luke Dunphy.
Trying to be the coolest dad ever. he is competitive, sensitive and funny.
Former cheerleader, current real estate agent, he likes playing with words, and he has different kinds of phobias.