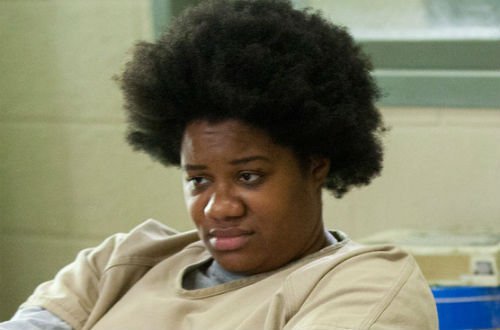 Fans of 'Orange Is The New Black's Black Cindy and her brilliant one-liners are in for a treat. Black Cindy's portrayer, Adrienne C. Moore, has been promoted to a series regular for Season 3 of the popular Netflix dramedy. 
RELATED NEWS: 'Orange Is the New Black' Inmates Glam Up in Season 2 Character Posters
This is great news for fans of the brash and sassy inmate who tells it like it is, including telling her picture of Denzel Washington: "You ain't got to be alone no more. We're going to my bunk, where 'Book of Eli' never happened." And let's not forget her epic beat boxing at the Christmas pageant -- the woman's got mad skills. 
We're not sure what Moore's full-time status means for Black Cindy (we're not even exactly sure what's going down in Season 2), but it's safe to say that her role will be expanded. She might even get the flashback treatment, like fellow inmates Red (Kate Mulgrew) and Poussey (Samira Wiley).
The second season hasn't even been released yet (that doesn't happen until June 6), but news of the upcoming (and not even written or produced) third season is already blowing up the interwebz. It was already reported that Laura Prepon will be returning as a regular cast member for Season 3, despite her role for the next season being reduced. All of this news just makes us even more excited for June 6 to hurry up and get here so we can binge-watch. 
RELATED NEWS: Laura Prepon Will Be Back Full-Time For 'Orange Is The New Black' Season 3
Prior to Moore's star-making turn in 'OITNB,' she appeared on 'Blue Bloods' and '30 Rock.'