Across the country, millions of Americans will be celebrating Thanksgiving with family and friends this weekend. If you are devoid of family and friends or if you just want to get away from them, there's a cornucopia of marathons and seasonal offerings on television to keep you occupied.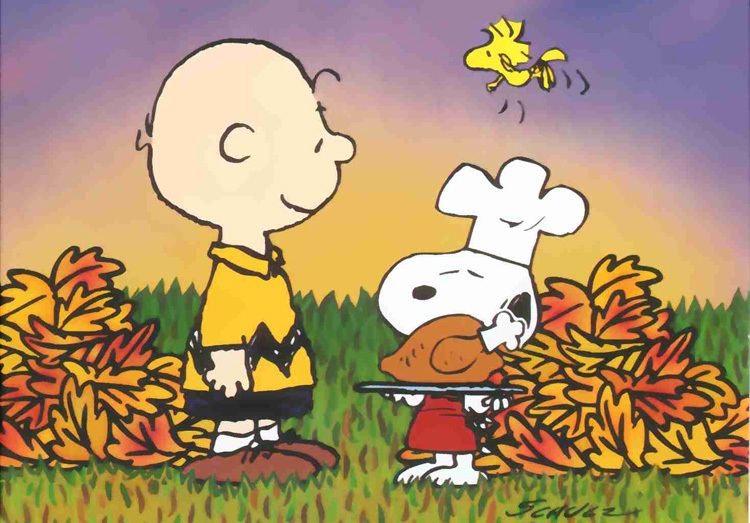 Here are just a few of the many morsels available on the boob tube this holiday Thursday, November 22:

- Wake up early and start your day with coverage of the annual Macy's Thanksgiving Day Parade on NBC and CBS from 9:00 AM until noon. Stay tuned to NBC for The National Dog Show at noon, hosted by John O'Hurley of Seinfeld fame. After dinner, switch over to ABC at 8:00 PM for the 1973 animated special A Charlie Brown Thanksgiving, followed by the more recent This Is America, Charlie Brown: The Mayflower Voyagers for more heartwarming Peanuts festivities.

- Classic movie marathons are always popular on Thanksgiving. Syfy will broadcast its annual marathon of James Bond movies from midnight late Wednesday/early Thursday until the wee hours of Saturday morning, beginning with 1981's For Your Eyes Only and concluding with 1965's Thunderball. In between, 007 films from each decade are represented, right up to 2008's Quantum of Solace. If you're looking for something more family-related, AMC continues its tradition of offering all three parts of The Godfather Trilogy from 11:30 AM until midnight. Just remember, we don't discuss business at the table.

- If you don't have a family of your own, you can spend Thanksgiving with a variety of different families from the history of television. Relive the golden era of TV with marathons of I Love Lucy (Noon–4:00 PM) and The Andy Griffith Show (4–9 PM) on TV Land. For a more dysfunctional family unit, visit Roseanne on CMT from 2–6 PM. Over on TBS, Friends will be celebrating Turkey Day from 11 AM until 6 PM, while BBC America offers a "family" of a different sort with a Star Trek: The Next Generation marathon from noon until 6 AM Friday morning.

- Other television series marathons on Thursday include 24 hours of NCIS on the USA Network, starting at 6:00 AM and lasting until 6 AM Friday morning. Oxygen has 24 hours of Law & Order: Criminal Intent beginning at 2:00 AM early Thursday, while Cloo will broadcast Psych from 6 AM Thursday until 6 AM Friday. Over on TNT, a Castle marathon will air from 10 AM–11 PM.

- As if being surrounded by extended family isn't enough reality for you, TLC will air a marathon of its hit reality series Breaking Amish from 11:00 AM until 9:00 PM. You could also join the Kilcher family on Discovery's Alaska: The Last Frontier marathon from 10 AM–9 PM, or if you're in search of something grittier, A&E offers over twelve hours of The First 48 from 3 PM until 4 AM Friday morning. For real reality, check out the How It's Made marathon on Science from 6 AM until 6:30 PM.

- Of course, what would Thanksgiving Day be without football? To prevent you from actually having to speak with your father when you head home, the NFL will present three games on Thursday: the Houston Texans visit the Detroit Lions on CBS at 12:30 PM, the Washington Redskins meet the Dallas Cowboys on FOX at 4:30 PM, and the New England Patriots face the New York Jets on NBC at 8:30 PM.

Check back here at TV Rage tomorrow for our Friday recommendations, including a slew of Christmas specials!