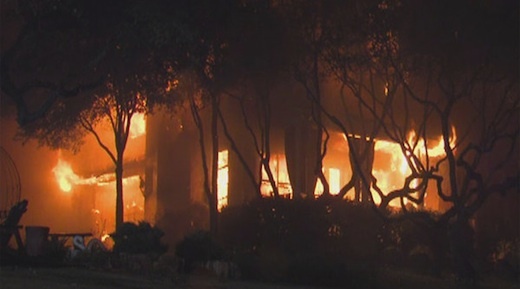 The bad news continues for the the Swan family, which was featured on CMT's reality program Swandersosa.
A month after Judy, the family's matriarch, passed away due to cancer, the family's Texas estate burned to the ground yesterday.
The fire began at 1 a.m. local time and firefighters from (at least) four departments fought the fire for three hours, according to San Antonio TV station KENS.
"It's horrible," son Thomas Swan II said. "I mean, you just can't catch a break. We're still trying to cope with that, and this happens. And now neither me or my dad have anything."
Thomas, a Marine, was home on leave for his mother's funeral when the fire took place.
It is unknown what caused the fire. Arson investigators are scheduled to examine the site today. Thomas believes that a lightning storm may have been the cause.
Swanderosa aired last year and featured the Swan family, which hosted events on their 18-acre property every weekend. The family worked to plan the events, with everyone pitching in. Father Tom, the technical expert; mother Judy, the florist; youngest daughter Lesley, the handy-person; and daughter Ashley running things. The family often found themselves dealing with odd requests that were difficult to pull off - not impossible, just difficult.