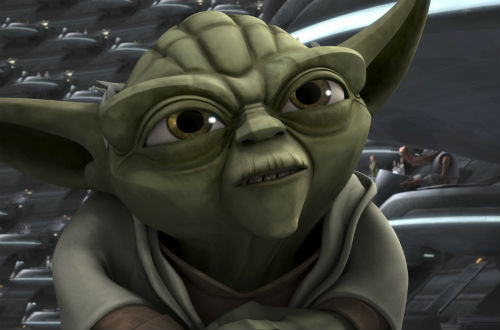 In addition to all of the other news we've been reporting, here are a few entertainment and TV headlines you might have missed:
-Netflix is resurrecting 'Star Wars: The Clone Wars' for a sixth and final season. The streaming service will debut 13 episodes of the animated series on March 7, with the new season titled 'The Lost Missions.' It is said to reveal "some of the deepest mysteries of the conflict between the light and the dark sides of the Force leading to a series finale."
-Ellen DeGeneres will be one busy lady after hosting the Oscars, as she will also host her talk show, 'The Ellen DeGeneres Show,' live the following Monday on March 3. Watch DeGeneres make the announcement here.
-The ABC-fronted Jennifer Carpenter series 'Sea of Fire,' which follows a murder and a disappearance, adds two familiar faces. First, we have 'Body of Proof's Jeffrey Nordling starring as the minister father of the missing girl. Next, we have 'Nashville's Christina Chang, who will play the mother of the lost girl's boyfriend.
-ABC's other pilot 'Secret & Lies,' starring Ryan Phillippe, has also added Juliette Lewis as Detective Cornell.
-Jamey Sheridan ('Arrow,' 'Homeland') is joining the cast of TNT's 'Agent X,' which also stars Sharon Stone and John Shea. Sheridan will portray FBI Director Stanton. Originally set as a recurring role, Sheridan will now be a series regular.
-It looks like 'The Killing' has upped 'Scandal's Gregg Henry to a series regular for his role as Detective Carl Reddick. This will be the fourth and final season for the show.
-John Oliver's HBO series will be called 'Last Week Tonight With John Oliver.' Debuting on Sunday, April 27, the series will run weekly and air on Sundays at 11/10c.
-'Saturday Night Live' alum Will Forte's latest comedy project, 'Last Man on Earth,' has been ordered to series at FOX. The single-camera comedy will also star Forte as the last man on Earth. So far, that's all that has been revealed about the sitcom.
-The Mother, Cristin Milioti, from 'How I Met Your Mother' has been tapped to play the co-lead in NBC's new comedy pilot 'A to Z.' The project follows the relationship between a young couple, Andrew and Zelda (Milioti), from meeting to breakup.