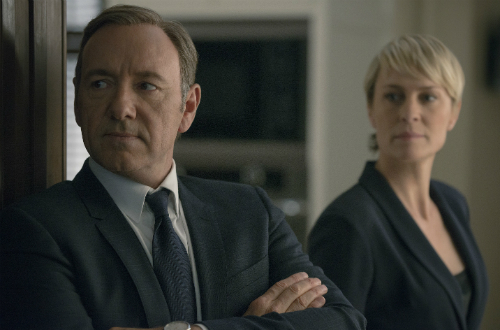 While the Season 2 narrative of 'House of Cards' picks up mere moments after the first season ended – we see Frank and Claire on their late-night jog, the one with which they concluded Season 1 – the creators as well as our host make sure to acknowledge that the ardent fans have been eagerly waiting.
They give us a lot to take in during the first episode.
Even before the major jaw-dropping moment of Chapter 14 (one through 13 made up the first season), an instance that serves to remind everyone just in case they forgot that this is no conventional drama, both Frank and Claire continue to manipulate, ever working towards loftier, more powerful goals.
We went into the break with the auspicious couple mostly in control, but with several loose ends and concerns (nagging issues, I'm sure, to the Congressman). Claire was the target of a lawsuit by her former employee, now pregnant, while Frank, in line for the Vice Presidency, has to deal with a trio of women related to the apparent suicide of Congressman Peter Russo.
Frank addresses them all: he contacts the inquisitive and determined reporter Zoe Barnes to try to steer her off the investigation, while Frank's always wonderful and seedy right-hand man Doug Stamper takes care of the call girl Rachel Posner that set the tragic events in motion. Christina Gallagher, Russo's now ex-girlfriend and staffer, returns as well, and with her surprisingly looking to be the biggest wild card.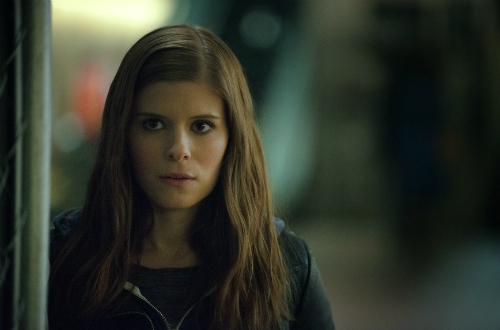 There were moments across the first 13 episodes that seemed to suggest however in control the Underwoods are, they are always on the verge of losing everything all at once. Were there moments of doubt heading into the second season, they seemed to vanish almost instantly, as Frank, Claire, and Doug all flex their muscle once more as if to remind us they are far more ruthless than we can actually grasp.
Where the first season seemed salacious and guiltily satisfying, this second proves to push those themes forward, with now more shock, horror, and bewilderment. Yes, Peter Russo was murdered, and that was a most powerful conclusion to a darkly well-orchestrated scheme, but already in this second season, we learn for both Frank and Claire that that incident didn't faze them as much as it may have unsettled the audience.
There is a plenty to soak upduring the momentous Season 2 premiere, but it can all be summed up in a disgusting, tragic metaphor offered during a conversation between Frank and his favorite restaurateur, Freddy. 
"I didn't think these could get any better," says Frank of the ribs, wondering if there was something different about them. "I tried a new butcher," responds Freddy, ominously. "He slow-bleeds his hogs. It's not exactly legal." Instead of killing the pigs instantly, Freddy explains with a bang that even shocks Frank, this butcher sticks a pipe in their throat for 10 minutes, resulting in pain, screaming, and fear – torture by any other word.
But the results are better.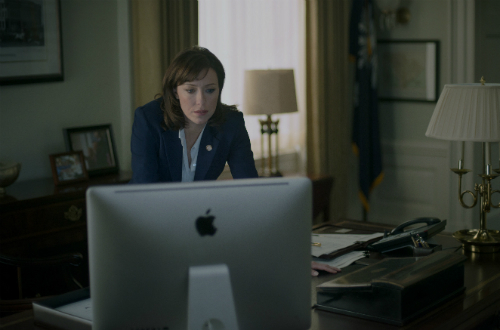 So that is what we can expect from Season 2, if the first episode is any indication. It's not that anything was particularly wrong or off about the inaugural year, but why not try something that could be better, even if it's inhumane? Or illegal. Watching Frank in this educating scene, even if it's less than a minute, you can tell he is amazed, and it's one of his two great moments in this superb return.
The second comes late, right at the end. Again, all the events pick up just after the end of the first season, but the audience has been away from the characters and show for so long. In a moment that is both chilling and so giddily-wonderfully executed, Frank bluntly addresses this passage of time, leaving us with a few things to ponder.
You can give pause to what has taken place over these first 60 minutes, and while some of the audience may have to, Frank says there is no need. You have that option of course, with Netflix here as always releasing the entire season at once. Frank is always working and always on, setting his sights higher with more plans and string-pulling in place: one new character is introduced in the acutely-named three-term Congresswoman Jackie Sharp (Molly Parker), who Frank pegs to replace him as Whip.
What's become apparent is that it's not simply that Frank is willing to do just about anything to get what he wants; it's that he has been doing this all along, and we're just starting to see some of their more horrific, eye-opening lengths he will go to.
And we thought it couldn't get any better.