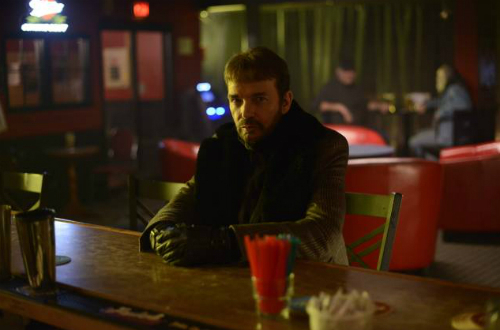 If you've seen any of the trailers for FX's new anthology series 'Fargo,' the one thing that may stand out above all else is just how terrifying Billy Bob Thornton looks. The accomplished actor has played a wide range of characters throughout his lengthy career, some evil, some sympathetic, but the role of Lorne Malvo that he undertakes in this serialized adaptation of the famed Coen Brothers film, is unlike any other.
"Usually when you're playing a character, you think a lot about their backstory and in this instance I didn't want to do that because I doubt Malvo thinks much about his past anyway," Thornton told reporters during a conference call ahead of the 'Fargo' premiere. "Nobody knows him or knows what he's about. And I think it was important for me to not dig into it too much. I think it would have affected the performance in a negative way."
Thornton's character is a mendacious, unpredictable drifter without a conscience -- a first for Thornton, he recalls. Malvo also comes complete with a weird haircut that the actor said he brought to the character himself, even albeit by mistake; the bangs too seem kind of creepy.
Our first meeting with Malvo finds him driving a car with a half-naked man tied up in the trunk. Next time, we see him sit down next to Martin Freeman's weak-willed Minnesota native and insurance salesman Lester Nygaard, who recently ran into a wall after being intimidated by a former high school bully (TVRage also spoke with Freeman this past week).
In that instance Malvo senses weakness. He plays with Nygaard just as he does so many others. "I think what really attracted me to it was not as much that he didn't have a conscience as he has this bizarre sense of humor where he likes to mess with people," added Thornton. Nygaard isn't necessarily a bad guy though, so Malvo isn't there to hurt the meek individual, but simply trying to help him tap into a different part of himself.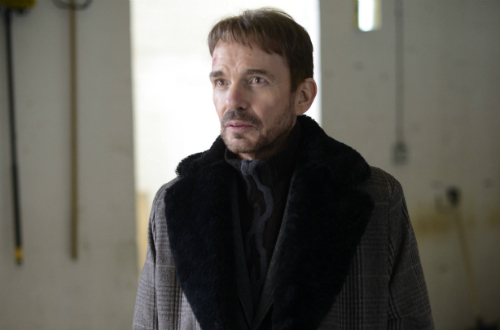 In what is described as basically a 10-hour movie, Thornton and Freeman star alongside Bob Odenkirk, Colin Hanks, and Allison Tolman in this atmospheric mystery series in which Malvo leaves a trail of death and destruction in the Great Plains of Minnesota and North Dakota.
"I looked at Malvo as a guy who is a member of the animal kingdom, you know," said Thornton, comparing the character's casual, brutal nature to polar bears and alligators. "He's got this sort of animal instinct and he just smells people out and I think a lot of times, especially these days and times when the world is going kind of crazy, I think we're all frustrated and want to just shake people a little bit. And so maybe through Malvo you get a chance to slap somebody around a little bit."
"It's his only social contact and so, screwing with people for Malvo is kind of like jet skiing for most people," added Thornton.
The 58-year-old actor only briefly got to don the endearing Minnesotan accent, as Malvo in a scene pretends he is a local. Thornton admitted some jealousy in that the others had to learn and adopt the dialect throughout, but it was fun while it lasted.
It's not just the sound, but the look and feel that is replicated from the Coen brothers film. The earlier episodes play out slowly, strangely, echoing the cool and methodical tone of its inspiration. Sudden acts of violence and random encounters startle and make sure the viewer is never quite sure what, if anything is going to happen next. For Thornton, not only did he abstain from thinking about his character's past, but he wasn't especially interested in the future.
"Noah [Hawley, showrunner] would tell us as much as we wanted to know, and I didn't want to know about the first four episodes or so," said Thornton. "And after that I had some questions. I did want to know because once we got deeper into the plot, I did need to know where he was headed at a couple of directions, just in order to know how to play a couple of scenes."
"It's very mysterious and that's what I like about it," Thornton said of the appeal of the show. "It's not like cliffhangers and thrillers and things like that, it is a mystery and I think people love mysteries. And so, you have the combination of a crime show in sort of a white bread community with a mystery and I just think that people are going to want to know what happens to all these folks, both good and bad."
'Fargo' premieres Tuesday, April 15 at 10/9c on FX.