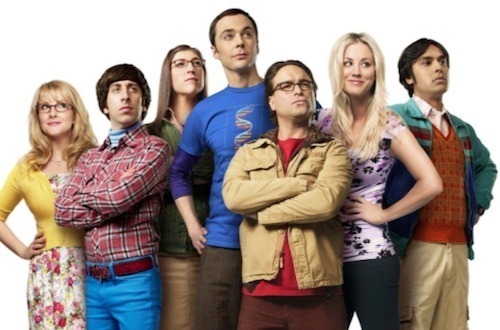 Like NBC, FOX and ABC, CBS just unveiled its lineup for 2014-15.
It should come as no surprise that 'The Big Bang Theory' will temporarily move to Mondays at 8 p.m. due to CBS' 'Thursday Night Football' time slot. After five or six weeks, the comedy will return to its original Thursday slot.
RELATED NEWS: CBS Orders 'NCIS' & 'CSI' Spin-Offs, 'Odd Couple,' Kevin Williamson's 'Stalker' & 4 More to Series
Other shows on the move include 'NCIS: LA,' 'The Amazing Race' and 'CSI,' which are all detailed below. In addition, 'The Mentalist,' 'Mike & Molly,' 'Undercover Boss,' 'Battle Creek' and 'The Odd Couple' are tapped for midseason. Finally, CBS confirmed that this will be the final season of 'Two and a Half Men' and 'How I Met Your Dad' is officially not happening.
Check out the complete schedule below (new shows in CAPS):
MONDAY
8 p.m. 'The Big Bang Theory'/'2 Broke Girls'
8:30 p.m. 'Mom'
9:00 p.m. 'SCORPION'
10 p.m. 'NCIS: LA'
TUESDAY
8 p.m. 'NCIS'
9  p.m. 'NCIS: NEW ORLEANS'
10 p.m. 'Person of Interest'
WEDNESDAY
8 p.m. 'Survivor'
9 p.m. 'Criminal Minds'
10 p.m. 'STALKER'
THURSDAY
8 p.m. 'Thursday Night Football'
THURSDAY (after football ends)
8 p.m. 'The Big Bang Theory'
8:30 p.m. 'The Millers'
9 p.m. 'Two and a Half Men' (FINAL SEASON)
9:30 p.m. 'THE MCCARTHYS'
10 p.m. 'Elementary'
FRIDAY
8 p.m. 'The Amazing Race'
9 p.m. 'Hawaii Five-0'
10 p.m. 'Blue Bloods'
SATURDAY
8 p.m. 'Crimetime Saturday'
9 p.m. 'Crimetime Saturday'
10 p.m. '48 Hours'
SUNDAY
7 p.m. '60 Minutes'
8 p.m. 'MADAM SECRETARY'
9 p.m. 'The Good Wife'
10 p.m. 'CSI'/'CSI: CYBER'